Getting "smart" with Theatre on the Hill
From Thursday, Dec. 1 to Saturday, Dec. 3, Theatre on the Hill will present "Get Smart", their first full-length production of the year.
The plot of the play revolves around two spy organizations, simply known as CONTROL and KAOS, who waltz in a dangerous dance of counter-espionage and subterfuge. A single man by the name of Maxwell Smart, known as Agent 86, and his companion Agent 99 work to uncover the devious plot of KAOS helmed by the criminal mastermind Mr. Big and his right-hand man Garth.
"Get Smart" was originally a TV series created by Mel Brooks and Buck Henry and was later adapted into a play by Christopher Sergel. 
That adaptation to the stage has been the source of a great deal of laughter, stress, determination and pride for the cast. The actors include senior Charles Elliott as Maxwell Smart, also known as Agent 86, junior Jupiter Blanks as Agent 99, senior Laurel Bennett as the Chief, sophomore Joshua Wiseman as Garth and senior Erik Fraga as Mr. Big. 
Elliott is preparing for the play by constantly rehearsing his lines and getting into the character of Maxwell Smart. 
"[To prepare] you run lines, you work the set and get blocking and then as [I] go through the process, I ask Mrs. Wilkerson about character choices. . .she can give me tips and pointers into culturing the character specifically the way we think [Maxwell Smart] would act," Elliott said.
Bennett tries to tackle the challenges of having limited rehearsals and playing an already established character. 
"I was in the marching band and so I missed a solid month and a half of rehearsals … so for the second time in my theater career I learned how to learn my lines outside of rehearsal," Bennett said. "I watched 'Get Smart' because the show's unique because instead of creating a character . . . you have to play a character that's already been created. There are going to be people that know the character and will be displeased if you do not play the character right. I completely understand because I grew up watching 'Get Smart'."
Elliott feels that while his previous roles have been smaller, taking on the leading role of Maxwell Smart was a massive but welcomed and appreciated change. 
"I've done comedies before, this one's just a little different. I've done exaggerated characters before," Elliott said. "I was in 'Fiddler on the Roof' last year as a supporting role. And in freshman year I was in the MathSci play but that got destroyed by Covid. I feel very, very lucky to be able to have the opportunity to get such a role in only my second year with Theatre on the Hill, and I really appreciate Mrs. Wilkerson and everyone there for how much they've invited me in."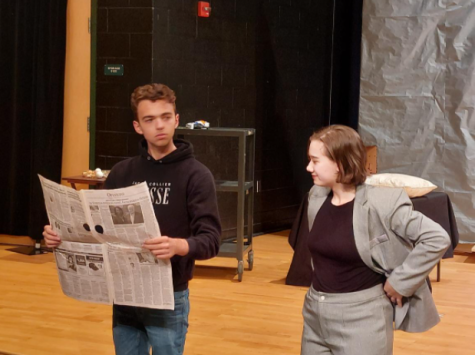 Blanks considers Agent 99 to be much different from some of their previous parts in Theatre on the Hill productions.
"I think this character is a little more formal than all my other roles," Blanks said. "Last year I played in 'Night Witches' where I was a commander. I feel like this role is a little more goofy, perhaps a little less serious. But it definitely does differ from the narrator, which I played in 'A Christmas Carol', and especially Professor Plum [in 'Clue']." 
Elliott likes how his character has more of a tactile focus where he feels there is a lot more to him than just voice and wit. 
"I really like a lot of the little physical stuff," Elliott said. "Usually you're thinking of inflection, how you're saying things, [. . .] it's a bit slapstick, some of the physical exaggerations or tendencies with him. They're fun and you feel like you can just explore whatever because of not only the player but the environment there."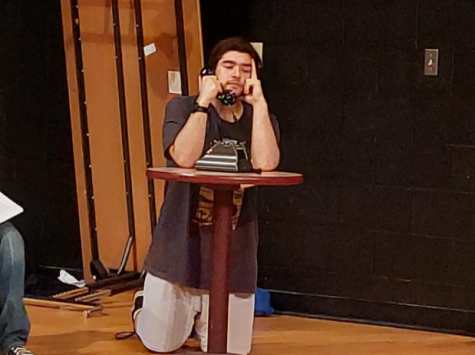 Fraga likes how his character is more of a caricature of villainous tropes. 
"I just like how goofy he is," Fraga said. "There's a scene where I'm seemingly doing something horrible from what the other characters believe they're hearing, but in reality it's absolutely stupid. Even in that scene I'm reacting like 'Why am I doing this? This is dumb. How is this working?' I just like the stupid stuff that even as the bad guy I'm just as dumb as everyone else."
Theater teacher Carli Wilkerson hopes that "Get Smart" will have a substantial turnout.
"Maybe we won't sell out at all three nights but it would be dope if we did," Wilkerson said. "'Clue' was the first show I've ever sold out before [and] every show since then has had a massive turnout!"
The show runs Dec. 1-3 in the Clover Hill Forum and will start at 6:30 p.m. each night. Tickets are $10 and the doors open at 6:00 p.m.