Clopton receives Game Changer award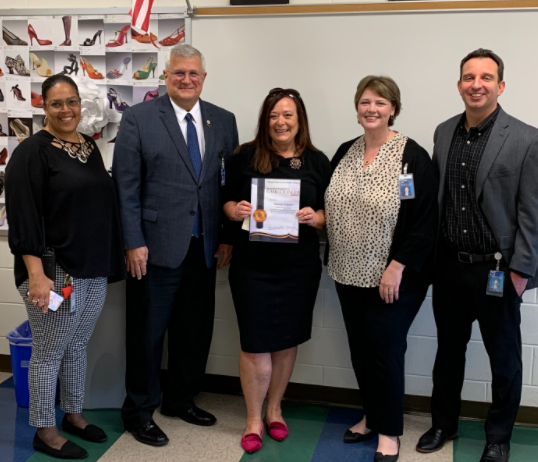 During first block on the morning of Dec. 8, English teacher Rhonda Clopton received the Superintendent's Game Changer Award from Chesterfield County Public Schools superintendent Dr. Mervin Daugherty. 
The award honors Clopton for making a difference in the lives of the students she teaches, and the athletes she coaches in Field Hockey and Lacrosse. For Clopton, the most meaningful part of the award is that she was nominated for it by seniors Maggie Matzen and Cabot Butts. 
"I don't come here for accolades," Clopton said. "I come here to try and teach my students and the fact that they recognize that I guess is really significant to me."
Clopton impacts her students and athletes lives through allowing them to be themselves and teaching them how to lead.
"I think that I have been a changer because I strive to just be real and to let people know it's okay to be real, but I'm also a leader," Clopton said. "Whether I choose to be or not. And I, especially in coaching, I think I've taught a lot of my players and shown my players what it is to be a leader and how to be a leader in the right way. So I think that's a game changer moment there."
Matzen values the way that Clopton is always there for her and all the other students she teaches and coaches.
"Ms. Clopton has been one of the most influential people in my life," Matzen said. "I always feel like I can go talk to her. Throughout my senior year, I've felt pretty lost and Ms. Clopton has been there to help guide me through all of the events happening in my life. From college applications to personal experiences, Clopton is a big supporter of me, as she also is for other students."
Butts decided to nominate Clopton because he feels that she deserves more recognition for everything that she does at Clover Hill. 
"She does so much more than than just teach a class; she does so much for the school that goes unnoticed," Butts said. "And I don't want that to go unnoticed anymore. I feel like other people should be recognizing the fact that she does a monumental job doing a bunch of stuff for the school. [She does] NHS, lacrosse, field hockey, so much."
Matzen feels that having Clopton as a teacher has made a lasting, positive impact on her life. 
"Being in Clopton's AP Literature and Honors English 12 class has given me a community to further my ability to write and communicate, but also make long lasting friendships," Matzen said. "The way Clopton is able to foster caring communities even goes beyond the classroom to the girls she coaches at Field Hockey and Lacrosse."
Butts is thrilled that Clopton received the recognition as a game changer. 
"She's always been a great person just to be around, and for that I'm happy she won this award," Butts said.