Show choir prepares for upcoming season
Nicole Whitby teaches two show choirs at Clover Hill: Iridescence and New Dimensions. Iridescence is an all-girl show choir made up of 17 girls, and New Dimensions is composed of 23 students that attend Clover Hill. 
The 2022-2023 school year is Whitby's first year teaching show choir at Clover Hill. When auditions come around, she looks for somebody who can match pitch when singing as well as someone who has rhythm while dancing with a group of people. 
Sophomore Madeline Shumate is a part of Iridescence. Shumate has been a dancer and gymnast since she was young, so performing comes naturally to her.  
"I wanted to get involved with the show choir because I thought it looked like a great community to be a part of," Shumate said.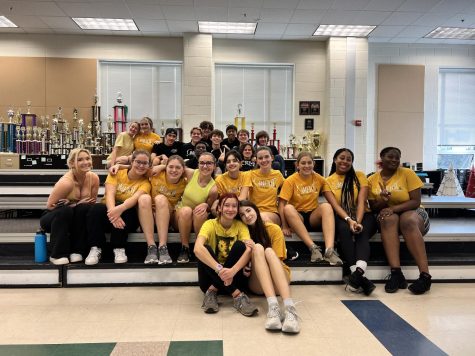 Juniors Josh Eaton and Rose Saunders are presidents of show choir; Eaton is responsible for New Dimensions and Saunders helps with Iridescence. 
"This time of the year is the most stressful, because we are breaking everything down to get it perfect" Saunders said.
In November the Show Choir starts practicing the choreography. 
 "My favorite part of New Dimensions this year is the choreography, because it has really been a lot of fun," Eaton said.
The show gets revealed to the public on Jan. 27. Halfway through the month of February, show choir has their first competition, which will be hosted at Clover Hill; Thomas Dale is hosting a competition on the first weekend in March.