Representative Donald McEachin passes away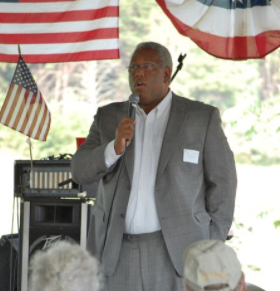 Twenty days after he was reelected as the representative for Virginia's 4th congressional district, Donald Mceachin passed away Nov. 28, 2022. 
Born on Oct. 10, 1961, McEachin dedicated his life to helping others. He earned a bachelor's degree in political history from American University, a J.D. from University of Virginia's School of Law and a masters degree in divinity from Virginia Union University. McEachin was an active member of the NAACP, an organization dedicated to fighting for civil rights and social justice. Throughout his life, he fought to protect the environment, stop gun violence and keep healthcare affordable. 
McEachin served as representative for the 4th congressional district from 2016 to the end of his life. He was dedicated to helping the environment as a member of the House Committee on Energy and Commerce, the Select Committee on the Climate Crisis and the House Committee on Natural Resources. Along with that he was co-founder of the United For Climate and Environmental Justice Congressional Task Force and Co- sponsor of the Environmental Justice for All Act. 
Prior to his time in the House of Representatives, McEachin started a law firm, McEachin and Gee, that helped people with personal injury, driving infraction, wrongful death and police misconduct cases. Mceachin also served in both chambers of Virginia's General Assembly. 
McEachin battled colon cancer starting in 2013. Despite this, he continued serving in government. McEachin's Chief of Staff Tara Rountree and the rest of his office will serve the fourth district until there is a special election for a new representative. Until the election, there will be an empty seat in Congress. Governor Glenn Youngkin has yet to select the date for this election.