Latin students win spirit competition and individual awards at convention
On Nov. 21 and Nov. 22, 10 students competed in the Virginia Junior Classical League State Convention's academic, creative and spirit competitions. 
According to Latin teacher Lexi Harrell, the convention is one of the largest academic gatherings in the state. This year, over 2000 students and teachers attended. It is held at the Greater Richmond Convention Center.
"The convention is held once a year and they do a bunch of academic tests, graphic arts and creative arts like oratory and speaking, and it all has to do with classical themes," Harrell said.
While there, the students participated in these competitions and several won awards. As a group, Clover Hill won the spirit award. In the spirit competition, teams do a service project and then attempt to be the loudest and most spirited at the convention.
"We wrote letters to people in need around the holiday time in hospitals," Harrell said. "It was called Love for our Elders. So it's a little bit of service with our community. And there was a competition where people wore the same T-shirt and we made a banner and yelled cheers for 15 minutes."
In the spirit competition, the teams received judgment based on uniformity, creativity, noise level and more. Though it was Clover Hill's first time competing in years, the group received first place out of 30 schools.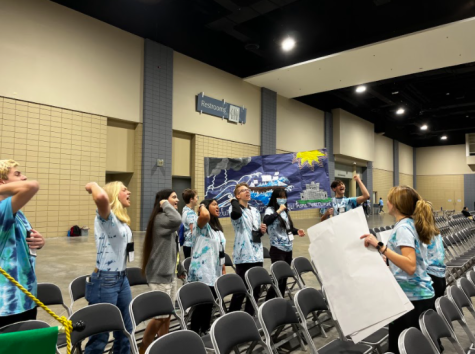 "We were seated in the back corner of the huge room with 2000 people in it and people on stage were telling us that it sounded like we were right in front of them," Harrell said. "And there were only 10 of us that went so imagine 10 people screaming, and there was a group of 90 and some people were like 'you guys were as loud as the group of 90.' So we had a lot of really dedicated students that were really excited about that."
Sophomore Sophia Sneed received second place in the roman life and customs test, fifth in the mottoes test and second in the tenth grade black pencil graphic art contest. In the life and customs test, Sneed beat over 300 other students. Harrell is impressed with Sneed's almost perfect score because of how challenging the test is. 
"These tests are really rigorous," Harrell said. "It's not information that is necessarily taught in the classroom. It's a lot of stuff you have to [study] outside of the classroom and knowledge you have to know."
Sneed went to the convention for the first time in years and enjoyed rediscovering the traditions and experiences.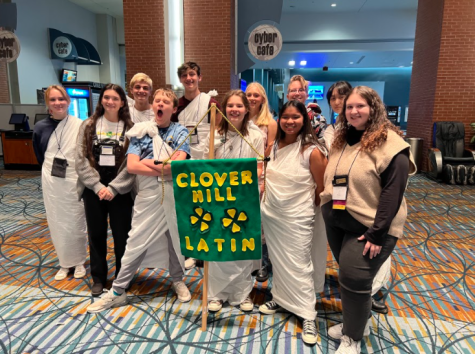 "I had the distinct memory of thinking in middle school that the Latin Convention was the highlight of the year, but I had forgotten why," Sneed said. "And then I went back and it was really fun."
Sophomore Chace Hoctor won first place in the tenth grade photography graphic art contest and tenth on the mythology test. Freshman Clara Heath earned third on the classical art test. Freshman Lillian Parker won fifth in the ninth grade black pencil graphic art contest. Freshman Abigail Flores received seventh on the mottoes test and seventh in the ninth grade greeting card graphic art contest. Junior Angelica Wang got ninth on the classical art test. Finally, juniors Emma McDaniel and Abigail Taylor served as the spirit leaders in the spirit competition.