'Bloodmarked' is a spectacular sequel with a unique spin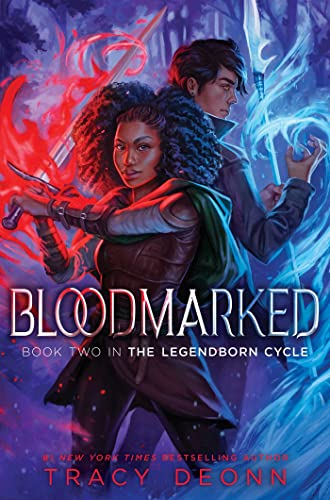 "Bloodmarked," written by Tracy Deonn, is the second installment in the young adult fantasy series "Legendborn." Published on Nov. 8, "Bloodmarked," presents a unique spin on the King Arthur and the Round Table legend. 
"Bloodmarked" takes place a month after the first book with the Order in disarray, and our heroine Bree Matthews learning that she is a descendant of King Arthur. While the Regents try to hide the war between the Legendborn and Shadowborn, Bree is fighting creatures and trying to find Nick. 
While "Legendborn" establishes a solid framework for worldbuilding, "Bloodmarked" expands on it. Deonn continues to amaze me by consistently constructing this intricate world. History and bloodlines remain important, and Deonn's ability to incorporate more lore while still establishing a world with complex layers is impressive. I did not think it was possible for her to improve her writing after creating the perfect book, but Deonn did. 
The suspense and pace of "Bloodmarked" is excellent. It is consistently full of tension, and there is rarely a slow chapter. Despite its length of 576 pages, the book is concise, with every word skillfully written and efficient. The pacing is phenomenal, with the perfect layering of intense scenes in between calmer moments. By the end, the stakes have risen, and the world feels bigger and scarier than ever in the best way possible. 
After two years since the first book, I was immediately drawn back into Bree Matthews' story. The sequel follows Bree's journey of self-discovery, as well as discovery of her family and the source of her powers. The way her character grew as the story unfolded was one of many aspects that kept me engaged in the story. It is refreshing to have a main character who is caring and kind, but also allows herself to feel her emotions and be vulnerable. As the story develops, Deonn allows Bree to significantly learn and grow which heightens the stakes for her character. In "Legendborn," Bree is a force, but in "Bloodmarked," she shines, establishing herself as a spectacular protagonist. 
The relationships in "Bloodmarked" are some of the most heartwarming parts of the book, and they serve as the series' constant core. The side characters, Sel and Nick, have a large presence in the book, and revelations about the relationship between the three of them play out beautifully. It was so interesting to see how Bree's personal growth is reflected in her relationship with Sel and Nick. Even though I am not fond of a love triangle, Deonn manages to avoid the typical clichés and issues that come with them by focusing on the heart of the story and compelling characters. Deonn not only creates a vivid world, but also creates her characters so impressively realistic; which stands out against so much young adult fantasy these days. Bree and her friends are complex and well-rounded characters that I could not help but fall in love with.
"Bloodmarked," like its predecessor, does not cushion the injustices and racism Bree faces. Throughout the novel, I was filled with rage over how she was treated, and reading about her experiences as a woman of color nearly moved me to tears. The exploration of community and generational trauma were significant, and it was an emotional rollercoaster from beginning to end. In "Legendborn," Deonn managed to mix in diversity and difficult discussions seamlessly, and this continues in "Bloodmarked."
Overall, "Bloodmarked" is a spectacular sequel that kept me on the edge of my seat. This book is a perfect example of the phenomenal and diverse writing available in the young adult genre. The "Legendborn" series remains magical, complex and unafraid of confronting discrimination. I am excited to see what Deonn creates in book three, and how Bree's story progresses.