GUEST: 'Sabrina (1954)' romantically immerses viewers in a witty and masterfull setting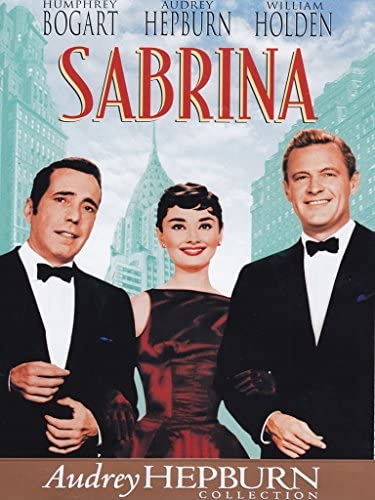 Our Guest film reviews are a collaboration with Billy Kaskay's Ethics and Culture in Film elective.
Audrey Hepburn's effortless ability to capture the audience's attention is on full display in "Sabrina." While she starred in this film early into her career, Hepburn has proceeded to establish herself as a powerful actress and leave a mark on American film culture. The American romantic comedy-drama starring Hepburn, Humphrey Bogart and William Holden is 153 minutes of pure delight to all who view it. Released in 1954, Billy Wilder directed this stunning masterpiece that is sure to enchant all who watch it for many years to come. "Sabrina" centers around a girl named Sabrina Fairchild who has an unrequited love for a rich playboy named David Larrabee. She goes away to study at a cooking school in Paris for two years and, when she returns, David immediately falls in love with her, but his brother Linus catches feelings as well. This movie will entertain and grasp the attention to those who view it with the now more popular and lovable cast.
"Sabrina" opens with a party at the Larrabee's mansion, the night before Sabrina Fairchild is to leave for a cooking school in Paris. Sabrina sees David Larrabee, the youngest son, with another girl and leaves for Paris, distraught. She comes back two years later, a more mature lady, and catches David's attention. Linus Larrabee, the eldest son, has plans to marry his brother off to the daughter of a profitable merger for the company and worries about Sabrina's impact on the engagement. But his plan does not work out, as he starts falling in love with her as well. One can tell that, with a plot like this, which is almost a regular Cinderella story, the directing and camera work would be stunning. And it is. While I originally chose it because of Audrey Hepburn, I stuck around, not only for her incredible acting and the wonderful cast, but the brilliant filming style and general look of the movie. One scene in particular was absolutely beautiful to watch: Hepburn's face was highlighted and accentuated by the shadows of the room, which contrasted flawlessly with the dim, dark interior of the Larrabee's garage, and it really set the mood for the scene. To add to that, the dialogue spoken by the cast, Hepburn's in specific, is era appropriate and has such an aura of sophistication that makes you nostalgic for the feel of classic cinema.
This movie is a must see! From Wilder's incredible directing style, to Hepburn's flawless acting, "Sabrina" is undoubtedly a phenomenal movie that should be seen and praised. Even though my admiration for Audrey Hepburn can continue on, I will say that I did not spend much time loving the traits of Sabrina Fairchild herself. She represents a very naive girl, fueled by her love for a boy, that drives her to making very drastic, life-altering decisions. Whether she goes along with them or not, I will not say, but the development her character had was of a different maturity, and I appreciated that, even if it was not quite there. And although I love the cast that was inevitably chosen for this movie, the 30 year age gap between the two leads, Hepburn and Bogart, can be off-putting for some people. But looking back at when the movie was made, this was, unfortunately, common for movies such as this. Overall, I thoroughly enjoyed watching this film and I recommend it for all who love Audrey Hepburn, like myself, or just classic, romantic comedies. "Sabrina" is like a breath of fresh air: it is funny, classy and just very beautiful to watch. The plot that it follows is one that I enjoy watching, no matter how cliche it is. And upon finding out the plot, I could not help but just anticipate what would happen next.
With everything I have talked about, it is no doubt that I recommend people to watch this movie. It truly is a masterpiece in not only genre and cast, but film techniques and camera work as well. The music is soft and romantic, to fit the storyline, and the words are sophisticated and occasionally sarcastic. Because of this, I give this movie either a 4 or 4.5 out of 5 stars. As mentioned previously, this movie has many good parts, but some things threw me off and I did not enjoy them as much as others. The good parts are enough reason to watch this film, with hope that others will enjoy it as much as I did.