How Cavaliers can celebrate MLK Day
Martin Luther King Jr. has impacted not just American history, but world history as a whole with his fight for equal rights. On Nov. 2, 1983, 15 years after Dr. King's death, MLK day became a federal holiday. Since then, the third Monday of January is recognized as a day to honor the memory of one of the most well-known civil rights activists.
Celebrations often involve speeches from civil rights leaders, parades and marches. However, when it comes to younger people, particularly those in school, they seem to see the holiday as more of a day off rather than a true holiday. 
History teacher Cluny Brown, who teaches African American history, believes that it is her responsibility to foster an appreciation for important activists in America.
"I like to expose my kids to people they may not have heard of before," Brown said. "Not just people of color, but anybody who gets left out of the fringe, such as women, people in the LGBTQ community and sometimes people who are not famous. You can not tell the story of America without including everyone."
Brown is working on promoting a program called "Transcribe," in which students can transcribe Freedmens' Bureau records to make the information available to all.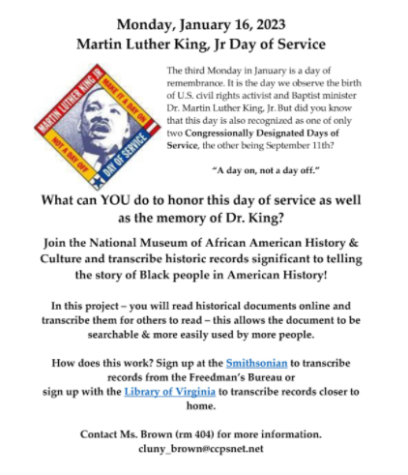 "Martin Luther King Jr. day is a day on, a day of service," Brown said. "The transcription program offers people a chance to learn more about the history of black people in America, as well as allowing them to contribute to that story."
Brown believes that all students possess the ability to create change.
"One of the biggest lessons we can learn from the civil rights movement is that the everyday person can make change happen, so I think that is one of the most important reasons for teaching it," Brown said. "I see my kids as future change makers."
Because of COVID-19, Brown believes that the school is limited greatly in terms of celebratory activities.
"We've had performances before," Brown said. "It is kind of hard because we had to stop some stuff. We want to make it more fun and less academic, make it more of an actual celebration."
More information on the "Transcribe" program is found here.
History teacher Emmett Hickam thinks the best thing students can do to celebrate is help those unable to help themselves.
"It does not have to be organized," Hickam said. "It is simply making things better for other people."
Hickam believes that students have never seen some of the injustices that Dr. King fought to eliminate.
"You could argue that Dr. King fulfilled his prophecy," Hickam said. "My hope is that while my students are with me they will understand that we still have a long way to go, we are not there. The day is reserved to give back, even if just a little bit."
For more information on how to celebrate MLK day, follow the link here.