Clover Hill alumni release debut album, make waves in music scene
Kidz at Play, or KaP, the creative house born straight from The Hill, is booming in success and hype as the rollout of their debut album shakes up the local music scene. The 11 track album, "Mike Tyson Jab," is putting Kidz at Play and Richmond, VA as a whole on the map.
Kidz at Play, is a group of designers, photographers, musicians and filmmakers with their roots embedded in Richmond, VA. Following the Chronicle's first article on the group two years ago, the creative house has since earned many accomplishments and passed important milestones in their careers. They have played plenty of live shows and opened for two well-known artists, Smino and Pusha T. They have started a YouTube channel where they post frequent vlogs, music videos and behind the scenes content as they work on their music. Then, they released their highly anticipated album "Mike Tyson Jab" on Nov. 4, 2022. 
In the album, the group displays a type of energy that they have been striving to express in the best way possible: the energy of being a kid. Their energetic and off-the-wall songwriting style, especially in tracks like "STFU!" and "HOLLYWEiRD," sends a message that the Kidz are on top and here to stay.
The album is filled with production from founding members SMYTH and Markey's Flower (formerly known as Marquis Flower), who graduated from Clover Hill in 2020 along with members DJ Erthtone and Quincy X. DJ Erthtone now often plays sets and mixes at local parties throughout Richmond. Much of the songwriting and vocals are attributed to SMYTH, Markey's Flower and Quincy X.
To finish the record, they rented out an Airbnb for a week in the mountains together, without any access to social media. There, they finished writing lyrics, producing tracks, making promotional videos, creating artwork for the album rollout and shooting the album cover artwork.
Along with their highly celebrated album release, the Kidz are performing plenty of live shows. Some highlights include opening for Smino and Pusha T, the latter of which is the subject of a vlog the Kidz filmed about their experience. Along with these shows, the release of their album granted them an opportunity to perform the album, front-to-back, live. They held the first of many shows on Dec. 4, 2022 at The Camel in Richmond. In Feb. their first tour kicks off, where they plan to deliver the same experience to those in Philadelphia, Boston and Washington D.C.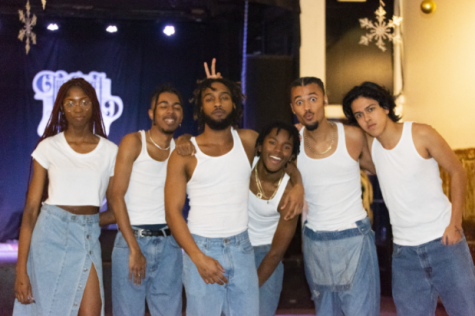 Jacob Parramena, another member and a manager of the Kidz, feels that the growth of the group in the last two years is surreal.
"March 2021 was when we did our first show ourselves, and now we're selling out our own venues," Parramena said. "And in March 2021 we didn't do our first show in a venue, we did it at a clothing store."
Parramena also believes that the experience they get from their concerts is very different from a traditional concert.
"What we do at the end of every show is that we make sure we get everyone in the group on stage and ball out, because our shows are an experience," Parramena said. "It's more than a performance. It's like the closest thing you can get to a play that's not a play."
Within each of their live performances, they have traditional moves that they perform when they play certain songs or get to certain parts in the show. For example, when SMYTH performs his song "Motor," it is tradition for him to break a chair. Along with this is the aforementioned ending to the group's live performances, which brings all of the Kidz on stage to perform. The Kidz strive to deliver fans the most personal and enjoyable experience with each one of their projects as they pour their hearts and souls out in each song.
SMYTH believes that the group still has a lot of learning to do, and that they are still finding out how they want to reach the next level.
"Right now I think we're still learning what that's going to be," SMYTH said. "Last year was the first time we've ever performed any songs off of 'Mike Tyson Jab.' So for album tradition, kind of like performance things, we're still figuring that out."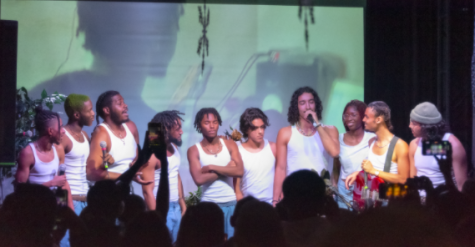 Kidz at Play continues to grow in popularity and fame. A month ago, the Kidz had 69,000 monthly listeners on Spotify, and their most popular song, "4 Da Kidz" had just under half a million streams. As of Jan. 16, 2023, the Kidz now have over 90,000 monthly Spotify listeners, and "4 Da Kidz" is close to 600,000 all-time streams.
SMYTH feels that opening for Smino was one of the moments where the group realized that they had achieved their goals.
"That was our first time being on any type of outdoor festival style stage," SMYTH said. "So for us to get there and just see what that was going to be was like an 'I made it' moment for us."
Quincy X thinks that this success and fame was guaranteed from the start.
"To be honest, yeah I always figured it would turn out this way," Quincy X said. "It was just a matter of waiting, you know. It was a certainty."
 The group has plans spanning the next few months, so they do not plan on slowing down any time soon. They, and their fans, hope that their debut album, "Mike Tyson Jab," is the start of a bright and bountiful career. 
"It's just the beginning," Parramena said. "It's a metaphor of the 'Jab' being the first thing that you throw in a boxing match, and that there are so many more punches left."