Stella's Restaurant brings a delicious European twist to Richmond
Stella's is an authentic Greek restaurant with an incredible story. Stella Dikos was born in 1942 in Trikala, Greece, a small city north of Athens. Dikos' roots in cooking came early in her life, as she learned to cook for friends and family as a teenager. In 1956, Dikos and her late husband Stravos emigrated to the United States, and opened the historic Village Cafe. Dikos opened her first namesake restaurant 27 years later on Harrison St., doors down from the Village Cafe.
Stella's moved twice before settling at its current location on Lafayette Street in 2011. In 2014, Stella's daughter Katrina Giavos began to run the restaurant. A year later, Stella's Grocery opened across the street from where Dikos cooks three days a week. There are now several locations and groceries around Richmond and one in Charleston, SC. 
A server at Stella's discussed Dikos' passion for life, as well as her energetic and inspiring personality.
"What to say about Stella I mean, she is an amazing woman," a waiter said. "She is slight in stature, but has the biggest heart. [There is] a presence about her that's really hard to find. [She is like the] soul of the earth, and has a [great] love and passion for [her] food and family."
The restaurant itself has a rustic feel and is jam-packed. Next door, there is a boutique with a coffee bar. The coffee bar looks very artsy and Mediterranean, and the server explained that the bar's theme was inspired from Dikos' home country.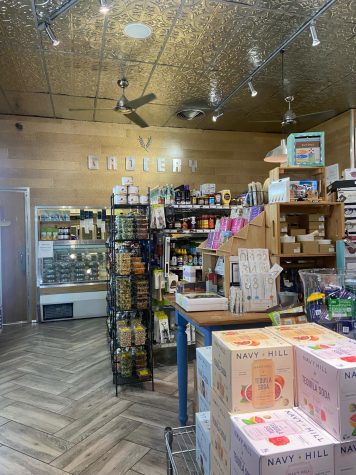 "[Stella and her now husband] really are the best," he said. "They take care of their people, they have a really good sense of what works, what ideas to bring to Richmond. A lot of their ideas and concepts are different from what other people are doing, they usually are bringing ideas from Greece itself to kind of create an authentic feel."
The portions at Stella's are very generous, so you could easily get by with just ordering an appetizer. Ordering just an appetizer and a main course, I still had plenty of leftovers. If you have never been to Stella's before, the menu is definitely a lot to take in, but thankfully the waiter was very helpful and gave several recommendations with considerate explanations. To start off, I got the Mushroom Saganaki that contained marinated & grilled portobello, plaki sauce, topped with kefalograviera cheese, and served flamed with pita bread. This is a delicious, filling appetizer that will make you want to finish every last bite. For my main course, I got the Pikelia, which is a tasting with pork souvlaki, tiropita, spanakopita, kreatopita, dolmades, and tzatziki. Since this dish was a sampler dish, it contained a lot of the appetizers and gave me an opportunity to try a lot of different Greek dishes. It was huge and even after splitting it, I still had leftovers to take home. 
Since I did not make a reservation, I was seated in the cafe building of Stella's. This gave me the chance to walk around the boutique area while I was waiting on my food. Overall, the food, story and location make for a great experience.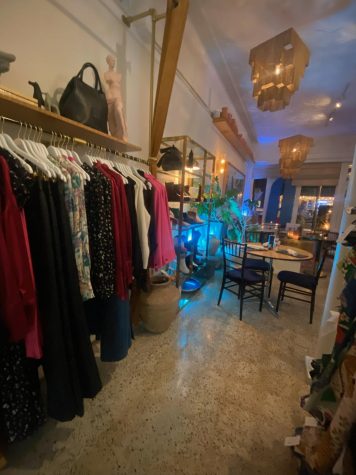 The address is 1012 Lafayette St, Richmond, VA
Expect to spend 25-40 dollars
★★★★★