Matthews and Hill's high scoring games not enough for Cavs
Last night, the boys basketball team took on the James River Rapids at home. Senior Bryce Matthews and sophomore Brandon Hill turned in impressive performances in the 65-52 loss. 
Coming into the game hoping to extend last week's two game winning streak, the Cavaliers scored first en route to a 15-12 first quarter lead. Four minutes into the game, Matthews energized the crowd with an impressive and-one on a layup over a James River defender. Furthermore, Matthews contributed eight of the Cavs' first 13 points.
Following a hot start, the Cavaliers cooled down in a very back-and-forth second quarter. The Rapids took the lead and took a 30-25 lead into the half.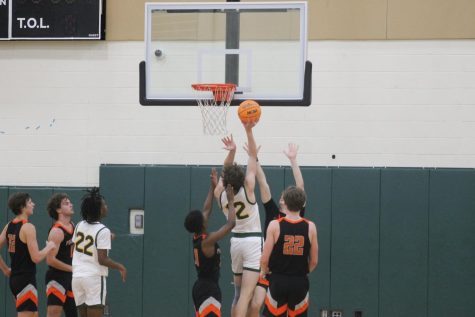 While Matthews' first half saw him score 15 points, James River held him scoreless for the entire second half. Someone they did not hold scoreless, however, was Cavalier Chronicle Player of the Game Hill, who scored 14 points in the second half. Added to the five he scored in the first half, on a driving layup and deep three pointer, Hill scored 19 points in the game. He also contributed five assists, five rebounds and two steals. Additionally, Hill shot 100% from the free throw line, going 4-4. 
James River brought some of the same energy out of the locker room as they took in, as they began the second half on a 5-0 run, fueled by a fastbreak dunk by the Rapids' guard. Hill shined in the third quarter; he made three consecutive shots to start the half for the Cavs, forcing a James River timeout with 3:41 left. 
James River went up by 12 points at the end of the third quarter. In the fourth quarter, the Cavs were able to cut the lead down to six points. However, that was as close as they would get, as they lost the game by 13, 65-52.
The Green and Gold will now look forward to the next game on the schedule on Friday, Jan. 20 on the road at L.C. Bird High School (10-4).