Black History Month spotlight: Jean-Michel Basquiat
This article is the second in a five part article series that will feature famous historical black figures for the month of February. This week's feature will deal with Jean-Michel Basquiat, one of the most influential black contemporary artists of all time.
Starting off by spray painting walls in New York to becoming one of the highest selling contemporary artists of all time, Jean-Michel Basquiat is an influential figure for black artists. Basquiat, whose parents were from Puerto Rico and Haiti, was exposed to a variety of cultures at a young age, which he eventually incorporated into his art. 
At the age of seventeen, Basquiat would drop out of school and leave home. With the support of his mother for his artistic passions, Basquiat started to pursue art under the name SAMO. At only seventeen, Basquiat had to make a living to support himself. He was able to produce art while also making enough money to survive by selling sweatshirts and postcards with his artwork on them. It would not be until 1980 that Basquiat would finally start to find success.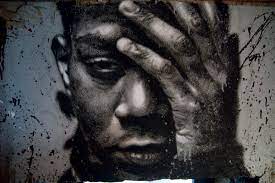 Critical acclaim would slowly but surely come to Basquiat, but his most famous painting to this day is his Untitled skull of 1981. With his use of color, symbolism, and a graffiti-like art style, Basquiat would rise to fame within the art community. In his work, the messages of police brutality, the black experience and the division of wealth and poverty were expressed. The most frequently utilized symbol in Basquiat's work was a crown. The three-pronged crown stands for his heroes and the ways in which he is carrying on their legacy.
Jean-Michel Basquiat was only 27 years old when he died. Despite his passing, his contributions to art and the black community will always be recognized. Basquiat was frequently stereotyped because of his skin color, locs and art style. Many assumed him to be an uneducated ghetto graffiti artist from the streets, but Basquiat proved to others that he was more than what others perceived. The contributions Basquiat made to the art world has helped to break down barriers and open doors for the next generation of young Black artists.