NAHS sells stickers featuring student art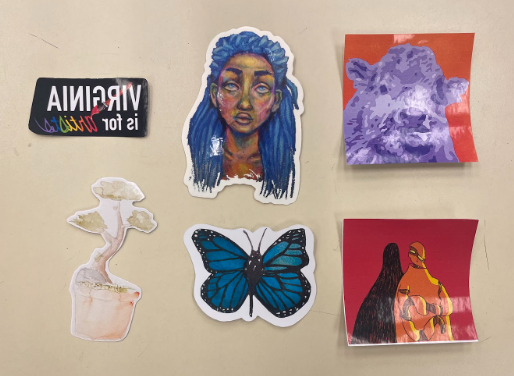 For the past month, National Art Honor Society (NAHS) were selling stickers available to purchase to all Clover Hill students. Each sticker features personal artwork from various art students in the CHHS art department. 
Art teacher Rachel Principe is currently orchestrating the display of stickers. Principe received with a Cricut, a do-it-yourself sticker maker, for Christmas. She originally started making stickers with her own artwork, but decided she should do the same for the NAHS students.
"I got a cricut for Christmas and thought it would be a good opportunity," Principe said. "Everybody likes stickers, they bring you joy and everyone likes putting them on their chromebooks and their water mugs and stuff."
All the proceeds from the sticker booth will go straight to the art department, the NAHS, and the annual art scholarship that is awarded to a graduating senior. The proceeds will help with the funding of the club's induction ceremony and other art activities. Senior Alex Stroud was initially interested in participating in the sticker sales to showcase other CHHS students' artwork. As one of the presidents of NAHS, she felt as if she needed to participate, but at the same time, she wanted to show off her work as well.
"So it kind of felt weird not to but at the same time I am proud of my work and wanted to get it out there," Stroud said.
Stroud has an interest in selling stickers due to their size and popularity. She feels stickers are the best way to raise money for the art department while simultaneously providing a way for students to showcase their artwork at the Hill.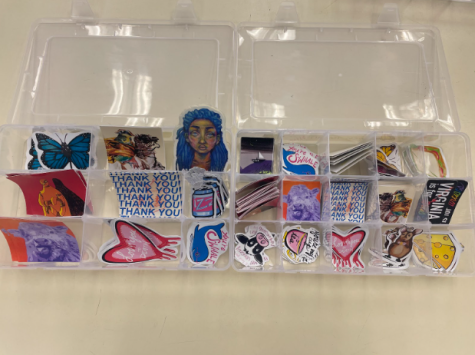 "It's something small and easy," Stroud said. "It's cheap and with our small budget it is easier to do something cheaper than making prints and it's something everybody can get."
The annual senior scholarship is awarded to a graduating senior who wishes to continue their passion in the arts. All of the art teachers will look through a handful of art students and look at their progress through their years on the hill. The scholarship money is not intended to help the graduating seniors get through college but instead is intended to provide extra cash for the recipient wherever they feel best suited.
"It's not a big scholarship, Principe said. "It's just whatever money we have to help them with art supplies or just to show them that we are encouraging and supporting them in their journey."
Instead of selling a Van Gogh painting, the stickers allowed for multiple art students to get their work out in the public. Multiple sticker pop-up events will continue to occur throughout the year with the next one coming up later in March. 
"We're gonna do another pop up week in March and maybe April so we can showcase different artwork and different students," Principe said.