Forensics team takes home title in 5C and 5D super regional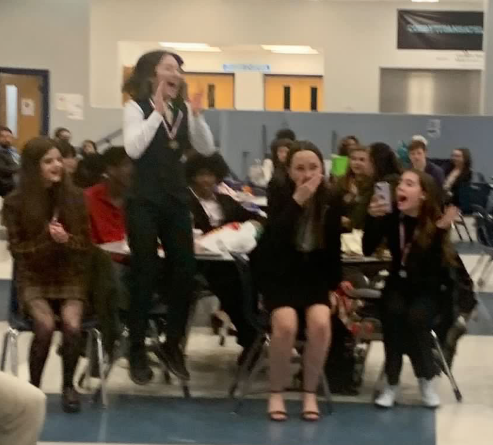 On Saturday, Feb. 25, the forensics team won the region 5C and region 5D super regional competition at Cosby High School. The finish was an improvement on their showing at the 5C regional competition, when they placed third. 
Forensics consists of competitions related to public speaking; teams earn overall finish positions based on how many speakers place in their events. 
At the super regional, senior Maggie Matzen placed second in original oratory, senior Cassidy Gunter finished second in storytelling, freshman Julia Harold earned third in humorous interpretation and senior Laurel Bennett got first in serious dramatic interpretation. All four qualified for the state tournament in March in Loudoun County. 
Gunter did not expect to win because the team did not win the region 5C tournament. However, this time they were able to win the super regional championship despite facing competitors from schools from two regions instead of just one.
"I went in and I said 'man, I know who's gonna win this, not me,'" Gunter said. "But then I ended up getting second and we all ended up placing, which we didn't expect, and Clover Hill was able to take home the trophy," Gunter said. 
Gunter plans to practice in a greater volume than before in preparation for the state competition.
"I'm gonna practice my speech more," Gunter said. "I didn't do that enough [previously] … I'm going to look over the comments that my judges made and try and change stuff about it and just basically rehearse the entire time."