Zblewski shines in blowout win versus Manchester
Senior attacker Emma Zblewski stole the spotlight on Monday night against the Manchester Lancers, as the Cavs dominated the game en route to an 18-6 win.
Scoring came early for the Cavaliers, with senior Destiny Smith putting the ball into the goal within the first minute of the game to give the Cavs a quick one goal lead. After an equalizing goal by the Lancers, Zblewski began her scoring tear quickly in response, making the score 2-1. Senior attacker Anahi Vasquez assisted on the goal by Zblewski.
About a minute later, junior attacker Oge Ikem scored, followed by sophomore midfielder Hannah Neely with just over 12 minutes left in the half. Manchester would only score once more in the half, which was highlighted by two goals by Vasquez, as well as another goal by senior midfielder Vianca Ruiz. Zblewski scored one last goal in the half, beating the halftime whistle, scoring with 10 seconds left.
Zblewski, the Cavalier Chronicle Player of the Game, began the second half just how she ended the first, scoring once again, this time 25 seconds in. In total, Zblewski scored eight goals, while shooting at a 73% efficiency clip.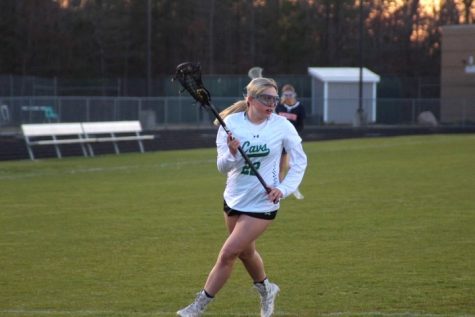 Manchester scored four goals in the second frame; however, the Cavs answered with 10 goals of their own. Zblewski scored six of those goals, adding to the two she contributed earlier. Under a running clock for most of the second half, the Cavaliers never looked back. With three minutes left on the clock, Smith contributed one last goal, sealing the Cavalier lead and eventually victory at 12.
After scoring 19 and 18 goals, respectively, in their last two games, the Cavs will look to ride the momentum of their two game winning streak. The Cavaliers' next game is next Monday, April 10, at Thomas Dale High School at 7 p.m.