Holocaust survivor speaks to Clover Hill students
On March 7, 2023, Clover Hill High School welcomed Holocaust survivor Halina Zimm. During her visit in the auditorium, Zimm educated the students and teachers about the Holocaust and life during World War II by telling them her firsthand account. Students were free to ask Zimm any questions they had at the end. 
Zimm speaks about her experiences of survival through the Holocaust at many high schools in order to increase the knowledge that young people have about what she and other Jewish people experienced during that time. Zimm was eleven years old, when she and her family left their home in Lodz, Poland in 1939 to escape from the Nazis. The family moved to a town in the countryside, but soon that town became dangerous as well. 
Zimm's father, Solomon Drexler, acquired two birth certificates for Zimm and her sister to get them to a safe place. 
"My father realized soon he had to do something for us to survive," Zimm said. "He reached out to many Christian people and asked for birth certificates. It's not that we wanted to look like them, but it was safer."
Drexler received the birth certificates from a Christian woman who risked her own life to help Zimm and her sister. 
"She went to the priest and asked him for two birth certificates from her own daughters and he gave it to her," Zimm said. "My father had no money to give to her and she did it from the goodness of her heart."
This woman's deed has had a lasting impact on Zimm. 
"It was a tremendous sacrifice," Zimm said. "Even now I can't believe that she did that."
Using the birth certificate, Zimm changed her name to Wanda Kazuzick. Zimm and her sisters knew they had to leave, but it was dangerous for them to be together since it would arose suspicion, so they had to say their goodbyes. 
"We all had to go our separate ways," Zimm said. "I didn't know where to go. I was only fourteen."
Zimm fled to Warsaw and searched for help in a train station. She met a poor woman who took her in and stayed with her for a week until Zimm found a job as a live-in housekeeper for a rich Christian woman living across from the Warsaw Ghetto. 
"This ghetto was different because you couldn't escape," Zimm said. "There were Nazis all around with machine guns. The Jews that lived there were dying and starving. I couldn't do anything because I was a Jew. I just looked at them and my heart broke for them but I had to continue on."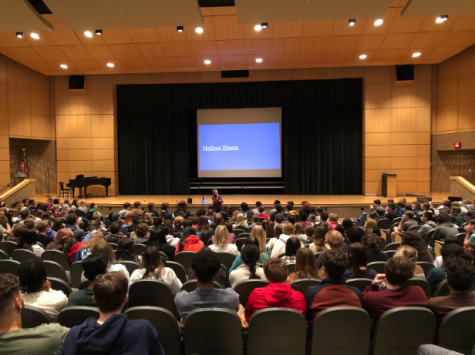 Zimm would go grocery shopping at the market everyday and then return to cook breakfast for her employer. On one of Zimm's market visits, she bumped into a woman she had known in Zarnow years earlier. A few days later, two Nazis arrived at the apartment, questioned Zimm, and accused her of being a Jew. 
"That woman had followed all the way to my apartment," Zimm said. "I had never spoken to her. Think about all that hate that woman had."
Zimm's employer defended her and was able to convince them that Zimm was not Jewish. However, her employer did not know that Zimm was Jewish and only defended her because she believed she was Christian. The woman's words saved Zimm's life, as the Nazi officers believed her and left.
 "I was very scared. It was a miracle I was able to escape," Zimm said. 
Zimm also mentioned the Warsaw Ghetto Uprising, which she experienced from across the street.
"The Uprising lasted for two months," Zimm said. "I wasn't in the ghetto so I couldn't see but I could hear the whipping, crying, and shooting. The Germans came in and destroyed the ghetto."
Zimm has been through many horrific moments, yet she continues to promote her message that peace is key and hate is wrong. She warns her audiences about the dangers of hate and emphasizes that the best way to prevent it is education. To provide that education, she tells her story. Students and teachers alike are exposed to an extraordinary story about humanity's duality of hatred and compassion.
 "Not all victims were Jews, but all Jews were victims," Zimm said.