Fourth Annual GalaxyCon celebrates comic books and anime in Richmond
For its fourth consecutive year, GalaxyCon Richmond hosted a comic book and anime convention at the Greater Richmond Convention Center. 
Through Mar. 24-26 thousands of Virginia residents flocked to GalaxyCon to meet their favorite celebrities, attend panel discussions and buy merchandise from local vendors. 
The celebrities featured at GalaxyCon included Charlie Cox, Stephen Amell, John Romita Jr. and William Shatner. All of these celebrities were available for questions and autograph requests. 
In the main exhibition hall were hundreds of vendors and exhibitors selling all sorts of goods. Among these vendors was Lee Edwards, owner of Collectible Empire, selling customized Lego minifigures. Edwards has been collecting Lego for over 9 years.
"[The setup] was pretty good," Edwards said. "It was pretty busy yesterday[Mar. 25], but it has been smooth so far."
Also featured was 2-Land Comics, an independent comic book series created by Jason Lewis and Chris Seawright. 2-Land features the main character DRIP, which is stands for "Do Right Inspire People", an anthropomorphic Tiger with superpowers. 2-Land's mission is to promote awareness for "MADness," another acronym which stands for Mental Health. Anti-Bullying, and Diversity.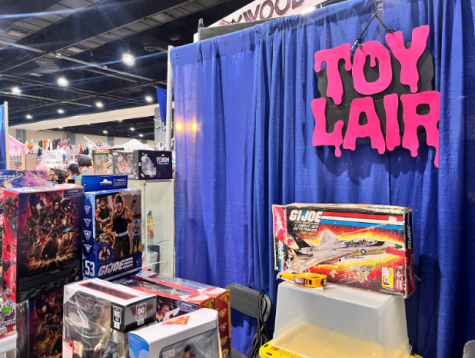 2-Land comics travels to elementary and middle schools across the nation promoting acceptance and teaching young children about the importance of standing up for one another. 2-Land is expected to have an animated cartoon coming soon. More information on 2-Land Comics can be found here.
Junior Giuliana Amedeo attended Galaxycon for her second time. Amadeo this year's Galaxycon was similar to that of her previous experience.
"I feel like there were not as many cosplayers," Amadeo said. "But the overall atmosphere was the same."
Amadeo had spent a lot of time exploring the exhibition hall, and felt that the variety was better at the smaller booths.
"The shops in front of the con were pretty generic," Amadeo said. "As you went towards the back of the building there was a larger variety of things. Most of the items that vendors were selling were handmade. They were selling things like art prints, pins, stickers, crocheted animals and even animal bones. It was a really cool experience to see all the different and cool things people had made."
While GalaxyCon is targeted towards fans of anime and comics, Amadeo believes there is a much wider appeal than one would expect.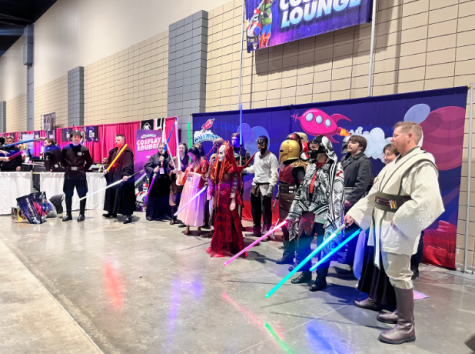 "It appeals to all kinds of people who love to consume all kinds of media," Amadeo said. "There were a lot of anime and comic related things, but it is really just a community of people engagin g with each other and sharing what they love, and I think that is an incredible thing.
Another aspect of GalaxyCon that Amadeo enjoyed was the level of diversity she saw.
"I saw all kinds of different people, even some people you would not expect as such a con," Amadeo said. "I think that is what makes the experience better. I really enjoyed being in a place where I could be myself and not be judged. I attended with two really good friends and exploring the building was really enjoyable."
Despite all these positives, Amadeo did have an issue with the lack of restrictions on explicit material. She feels that future GalaxyCons should limit the content on display.
"One thing I did not appreciate was the pornography in some of the booths," Amadeo said.  It would not matter to me as it is a form of expression, but it was very outright and there were many little kids attending this con. I wish they would have taken that into further consideration before having a 10 foot tall board of naked women in cosplay."
More information on GalaxyCon and future events is available on their website. GalaxyCon will return next year in 2024.