Girls' Lacrosse dominates in victory over Monacan
Many tremendous offensive performances and suffocating Clover Hill defense prevailed in a 21-3 Cavalier blowout win against the Monacan Chiefs on Wednesday night. While offense was surely on point, with three Cavs scoring over four goals, the play by the Cavalier defenders proved to be too much, with superb checks and saves.
Beginning the game with 10 unanswered goals, the Cavs started off quickly before Monacan finally scored with just under eight minutes left in the first half. Senior midfielder Destiny Smith and sophomore midfielder Kinsley Varn-Holmes were instrumental in the Cavaliers' early run. Senior attackers Anahi Vasquez and Emma Zblewski and junior attacker Oge Ikem also contributed to the early-game festivities, scoring their own goals in the first 15 minutes of the game. 
Entering halftime, the Cavaliers led 12-2, while showing no signs of slowing down. In the scoring department, Smith showed out, scoring nine goals over 12 attempts throughout the game. Varn-Holmes' performance was also very impressive, scoring four times on her six attempts.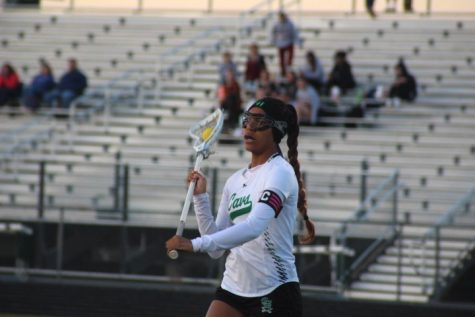 In the second half, the Cavs scored nine more times, led by four goals by Smith, three goals by Zblewski, a goal by Vasquez and a goal by Varn-Holmes. 
In addition to the Cavs' dominating offensive performance, their work on the defensive end was very impressive. Along with effective stick checks and breakout defense by the Cavalier defenders, junior goalie Grace Adams was hugely influential in keeping the Chiefs out of the goal. 
Adams won the Cavalier Chronicle Player of the Game award, totaling eight saves, while only allowing three goals. After allowing two first half goals and an early-second half goal, Adams held the Chiefs scoreless, saving every shot that entered her defensive position.
After losing their last two games to Midlothian and Glen Allen, respectively, the Green and Gold were able to halt their two game schneid with last night's win over Monacan. 
They will now look to start a new winning streak as they take on two very competitive teams in the Powhatan Indians and Cosby Titans, respectively. Both of those games will be on the road, before the Cavs return home against James River on Monday, April 24 at 7 p.m.