Branch tosses complete game as Softball defeats rival Cosby
Softball defeated Cosby on Thursday night, despite a late game scare by the Titans in the seventh inning; one in which they scored three runs. Thanks to a monumental effort by senior pitcher Angelina Branch, the Cavaliers were able to weather the storm en route to an 8-3 victory.
Branch began the game hot, striking out the side in the top of the first inning, contributing to only a portion of her success. The Cavs then quickly got their offense up-and-running in the bottom of the frame. Junior shortstop Allana Overby grounded out to the right side of the infield, pushing freshman third baseman Kristyn Niles across the plate.
After Branch threw three more scoreless innings, the Cavaliers opened the floodgates on the Titans, scoring four runs in the fourth inning. After freshman first baseman Bri Miller reached on an error by her first base counterpart, junior centerfielder Angela Rudolph grounded into a fielder's choice that forced Miller out at second base. However, Rudolph would advance to third after Niles singled into center field. Niles then advanced to second due to a Titans' defensive indifference prior to a single by junior right fielder Addison Thompson. That single scored Rudolph and advanced Niles to third.
Again in the fourth inning, sophomore catcher Alejandra Wittman doubled down the left field line, clearing the bases and giving the Cavs a 7-0 lead. The Cavaliers scored their final run of the game also in the fourth inning, as Overby tripled over the head of the Cosby centerfielder, scoring Wittman.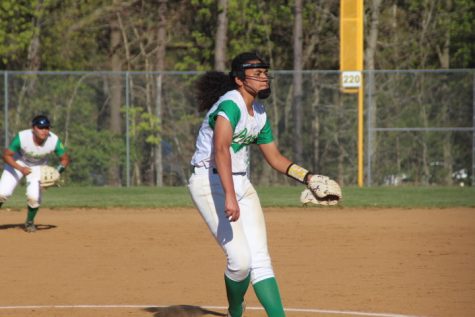 Through the first six innings of the game, Branch allowed only one Titan hit, striking out eleven. After Cosby scored three runs in the top of the seventh, Branch was able to get the last three outs, solidifying the win for the Cavaliers. Branch, the Cavalier Chronicle Player of the Game, was the winning pitcher. She went all seven innings, allowing three earned runs on four hits, while striking out 12 of the 30 batters she faced. In addition to her pitching, Branch drew a walk in her four plate appearances.
Niles led the Cavaliers in hits, going three for three with a walk and a run batted in.
After dropping two of their last three games prior to the victory on Thursday, the Cavs were able to get back in the win column, as they look to continue their momentum on Monday against Prince George at 5 p.m.