Boys soccer upsets James River
After a disappointing 5-1 loss at James River in the opening game of the season, the boys' soccer team flipped the script and redeemed themselves with a 2-0 upset over the Rapids on Tuesday night.
The game opened up even with both teams having a couple of half chances. For the Rapids, senior forward Archer Cox and junior midfielder Lucas Spiegel combined on a clever give-and-go, which put Cox in prime position to score; however, Cavalier keeper Corbin Jensen quickly got off his line and slid to collect the approaching ball. 
For the Green and Gold, senior midfielder Ian Hooks intercepted a James River clearance, maneuvered around a couple of Rapid defenders, then dribbled towards the goal. With tons of space in front of him, Hooks dribbled towards the endline and attempted to cross to senior forward Adam Selby; however, his cross was deflected out of bounds by a Rapids defender for a corner kick.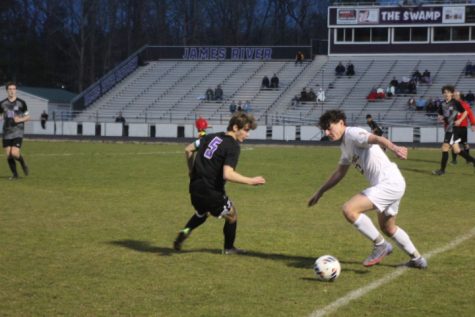 The Cavaliers were eventually able to break the deadlock, and open the scoreline with about 10 minutes remaining in the first half. Senior winger Dom Campo dribbled down the left sideline and whipped in a perfectly weighted cross, which found the diving head of sophomore Spencer Jacocks. The half ended with the Cavaliers up one. 
The referee blew the whistle to begin the second half, and the intensity resumed. James River looked to tie the game early, but sound defending from the Cavalier backline held strong, with a multitude of headed clearances and strong tackles, leading to poor shots or half chances for the visiting side. 
Despite the second half possession numbers being in favor of the visiting Rapids, the Cavaliers converted on a sensational counter attack. Selby held the play up, spun off his defender, and placed a ball ahead of the sprinting Campo. Campo held off a Rapid defender, and was able to slip the ball right past senior goalkeeper Will Batt to the bottom right corner of the net. With Campo's goal, Clover Hill went up two, with 15 minutes still left to play.
After a couple of close chances and crucial saves from Jensen, the Cavs were able to hold their lead and keep the clean sheet in a massive win over a highly ranked James River side.    
The boys return to the Chiller on Thursday night, as they host the L.C. Bird Skyhawks at 7:45 p.m, and seek to win their third straight match.