Latin Club holds food drive for RVA SPCA
The week of April 21, Rome's birthday, Clover Hill Latin Club ran a pet supplies drive for the Richmond Society for the Prevention of Cruelty to Animals. Lexi Harrell, the Latin teacher, incentivized her classes with a unique reward; within reason, the class could ask for any treat, if at least 60% of the class donated.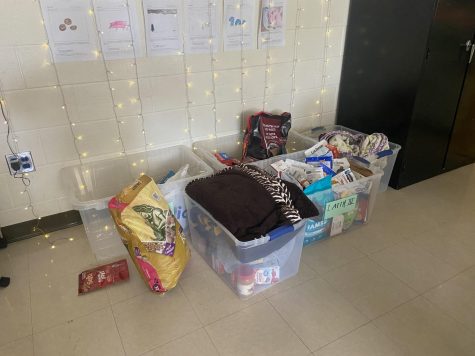 "If they got 60%, then they get a prize from me and they get to decide the prize," Harrell said. "That might be a mistake, but it was motivation enough for us to get a great turnout."
Despite almost all classes accomplishing their 60% goal, none of them have declared for a prize yet. Harrel had some insight for what ideas students may have had. 
"If we want donuts, you can get donuts," Harrel said. "If we wanna go outside, we can go outside or maybe we should just go outside and eat donuts. I even put extra-credit on the table, but we'll see who wants what. A lot of people are food driven." 
In all, Latin students donated about 80 items to represent their own classes along with teachers and fellow students who sponsored a class of their choice. An anonymous samaritan sent the largest donation, consisting of food, toys, treats and items to help the volunteers.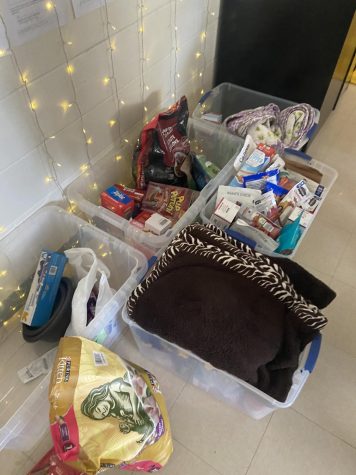 "Mrs. Brown brought stuff and Ms. Capuano in the library gave stuff and supported students," Harrell said. "So, I'm really glad the faculty helped."
Clover Hill Latin has never put on a donation drive before. As successful as this year's was, it may become tradition. 
"This is the first time we've ever done something like this," Harrell said. "So, it's really impressive to just donate five items to SPCA, but to bring almost a 100 from a random school in Chesterfield County is pretty cool." 
Having never done this before, the idea did not just come from nowhere. Donating to the SPCA was grounded in Roman myth. The story of Rome's founding features twin demigods, who get adopted and nurtured by a she-wolf, thus inspiring Harrell. 
"Classics week is a time to celebrate Latin and Greek classics and everything," Harrell said. "We wanted to celebrate by having Latin club do some kind of service event. We decided to [donate to] SPCA to make a weird tie to Romulus and Remus, but also give back to the Richmond community."