Dominating first half leads to Girls' Soccer victory
A ten goal first half prevailed in the Girls' Soccer 11-0 win over L.C. Bird on Thursday. Building off of an 8-0 win over the Skyhawks earlier in the year, the offense once again dominated for the Cavs. 
Cavalier scoring started just seven minutes into the game, as junior Ellie Diehl found junior Rylee Wampler for an impressive first goal. Wampler's goal was followed by a score by Diehl herself just two minutes later, assisted by junior Anna Niles. Niles, seniors Kayla Pulliam, Ollie Burnam and Mariet Nester and freshman Ava Mojaddidi would then each score goals over the next ten minutes.
After an unsuccessful corner kick with just under 17 minutes left in the first half, the Cavs would get on the board again three more times. This time, junior Nadine Greer and freshmen Camden Pringle and Karis Raimo found the back of the net. Burnam would once again find herself in the middle of the action, as she assisted Pringle on her goal. 
Burnam won the Cavalier Chronicle Player of the Game award, contributing to two of the Cavalier goals — one for herself and the aforementioned assist to Pringle.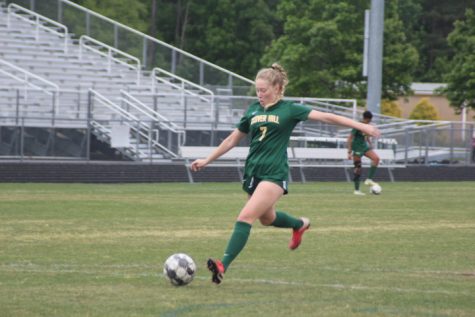 With the first half seeing as much scoring as it did, the Cavs opted to empty their bench fairly early in the game. Burnham and senior Katie Morton were the lone two starters still in the game after the first 25 minutes of the first half. 
At the end of the first half, the Green and Gold led 10-0; however, their scoring did not end there, as about 20 minutes into the second half sophomore Kayci Konah put a breakaway goal into the back of the net off of an assist by Pringle. Konah's goal would be the Cavaliers' final goal of the match, as the official blew the whistle to end the game less than a minute later, giving the Cavs an 11-0 win.
After their blowout win on Thursday night, the Cavs will look to ride their momentum into their next game, a road matchup against the Manchester Lancers, a team they beat 8-1 in an early season victory. The game will begin at 7 p.m. on Tuesday, May 2.