Boys Soccer defeats Manchester for fourth straight victory
In their third straight home game, the boys soccer team defeated the Manchester Lancers 3-0 on Tuesday night for their fourth straight victory, which includes wins over Huguenot, James River, L.C. Bird and now Manchester. 
For the Cavs, the game started a bit rough. Within the first ten seconds of the game, the team was put on their heels after a quick foul conceded against junior midfielder Luci Jara. Set pieces were key for the Lancers in the first half, leading to a Manchester header that hit the post; however, senior goalkeeper Corbin Jensen was quick to react and make an excellent save off of a quick Lancers' rebound effort. 
The Cavaliers did not stutter in wake of the dangerous chance, and had a couple of goal scoring opportunities in the first half. Senior winger Dom Campo combined with senior attacker Ian Hooks, who hit the crossbar of a lightning fast left-footed volley. Jara also almost put one in the back of the net after pick-pocketing a Lancer defender, but saw his shot drift just wide. 
After a handful of close calls for the Green and Gold, the referee blew his whistle, and the game was in a 0-0 deadlock at the half.  
The Cavaliers got off to a fast start in the second half though, putting pressure on the Lancers immediately. However, the first goal came from a penalty spot, after senior forward Ivan Acosta drew a harsh foul in the box. Acosta did not return to the match due to an ankle injury as a result of the foul. Senior left back Michael Hunter sharply finished the penalty kick, giving the Cavs a one goal advantage. 
A second goal quickly followed for the Cavs, as Jara placed the ball into the top right corner off of a free kick a few yards outside of the box.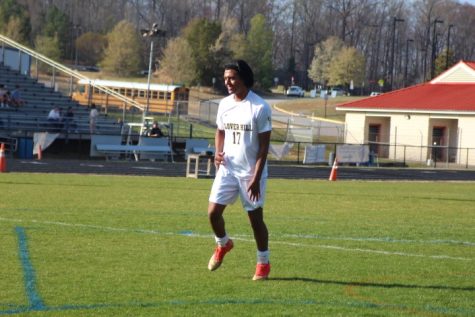 The final goal came with about twenty minutes left in the half, after Hunter served in a cross from the left side. An off-balance Manchester midfielder attempted to clear the ball; however, saw his effort waver into the back of the net for an own goal. 
With about ten minutes left, and the match basically in hand, the Cavs unloaded the bench, and kept the energy and pressure high. Wingers Steven Appiah-Yeboah and Spencer Jacocks had a couple of half chances, but saw none of their successes net in. After a final clearance from the Lancers, the final whistle blew with the scoreboard reading 3-0.    
The Cavs return to game action on Thursday, May 4, as they look to get revenge against the talented Midlothian Trojans (7-3) on the road at 7 p.m.