Branch and Miller combine for two-hit shutout on Senior Day
Softball defeated Monacan 10-0 in six innings on Tuesday as two pitchers combined to throw a shutout. Senior Angelina Branch and freshman Bri Miller combined for the victory. Miller induced a Monacan groundout to end the sixth inning and finish off one-third of an inning of work.
Prior to the game, Senior Day festivities took center stage with Clover Hill recognizing their lone senior. Branch was honored before the game, escorted by her parents, on the third base line, where she collected gifts compiled by her teammates and coaches. Branch will be attending Hampton University, intending to major in architecture.
For the second day in a row, Branch was the starting pitcher. Through two innings, she had thrown five strikeouts before adding five more in the final three and two-thirds innings. Exiting the game with two outs in the sixth inning, a standing ovation greeted Branch as she left the circle. Miller would then come into the game and throw five pitches before the Cavs returned to the dugout. 
The Cavaliers secured the victory thanks to a six-run fifth inning. The rally was led by a triple by junior Angie Rudolph, who went 1-2 with a walk in the game, an inside-the-park home run by junior Addison Thompson and a double by Branch. Thompson then came back up in the frame, hitting a single into center field, scoring Rudolph. Junior Allana Overby also contributed a double in the inning. Thompson finished with two RBIs in the game on three hits.
Once again, the Cavalier Chronicle Player of the Game award belongs to Branch. While her work in the circle was fantastic, her production at the plate was incredible. She had three hits in three at bats with a double and four RBIs. Additionally, Branch hit a sac fly to finish off the Chiefs in the sixth inning, resulting in a 10-0 slaughter rule.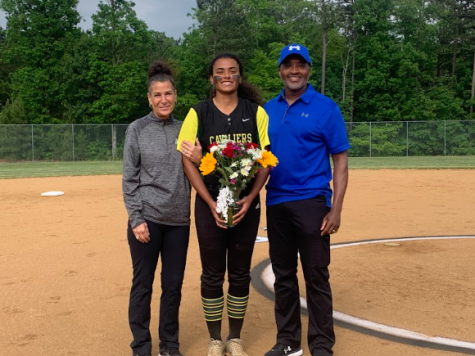 The Cavaliers totaled 13 hits in the contest, leading to a large majority of their success. Monacan was sure-handed in the field, committing zero errors in the game. The Cavs' 10 runs were due to timely hitting rather than Monacan mistakes.
After a tough loss to the 2022 5C Regional Champions Godwin Eagles on Monday, the Cavs will look to keep up their momentum for the rest of the season, as they look to control their own destiny into the 5C Region Tournament later this month. The Green and Gold will play again on Thursday, May 11 at Powhatan High School at 5 p.m.