Cade Glass flies off
For many, the prospect of flying a plane thousands of feet in the air can sound terrifying. Senior Cade Glass, however, has been dreaming of this since the age of seven. After earning acceptance into Embry Riddle Aeronautical University, Glass is ready to soar into the future. 
After speaking to a flight crew at the age of 11, Glass attended a conference in D.C, where he made connections with prospective pilots and got invited to several other events.
"I spent nine hours there, just talking with everyone under the sun," Glass said. "The year after that my parents sent me to a camp down at Embry Riddle, which is my university now."
During this time at flight camp, Glass flew his very first plane. Despite missing the initial round of practice flights, he was excited for his first time flying.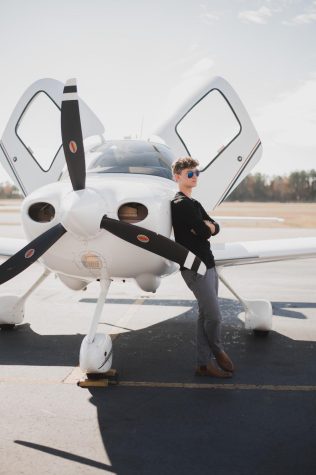 "I was the one who flew first, we turned on the runway and the plane was just mine," Glass said. "There is nothing like putting full throttle on a runway and flying away."
Due to starting so young, Glass' main setback in his journey has been the legality surrounding his age.
"You can start flight training at any time," Glass said. "But you can not do certain things until you reach a certain age, so it is a lot of waiting. It was about five years training wise, but you could easily do it in a few months. I got my license on May 17th of last year."
Throughout his years of training, Glass has sacrificed countless hours studying for flight tests. However, his motivation never waned and persevered throughout whatever challenges he faced.
"I have no regrets, I would do it all over again" Glass said. "I would maybe do things differently, but we all would in hindsight. I was 13 and getting flights for free to go to conferences. Who gets to say they did that?"
"
I remember sacrificing my winter break last year to study for an exam that I had to take. It is definitely worth it.
— Cade Glass
After graduating, Glass will be pursuing a degree in aeronautical science in hopes of becoming a commercial airline pilot. Previously, Glass considered becoming a navy pilot, but decided against it.
"There are a lot of quality of life differences," Glass said. "Between military and commercial the balances are in favor of commercial. So I just opted for that."
For most people, a trip to another state is something that has to be planned for in advance. Glass is not most people, however. Glass once flew over to North Carolina on a whim alongside a friend, an experience he remembers fondly.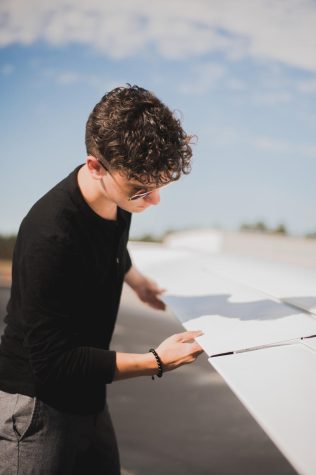 "A buddy of mine had worked for an airport for so long, he basically had the airplane for free for a few hours," Glass said. "We flew to Kitty Hawk for lunch down in North Carolina, so we flew like 130 miles, had some lunch at the beach and then flew home."
Glass feels confident in his abilities and is more than ready to put in the work to reach his dreams.
"I am fully alright with [the work]," Glass said. "It is all time and effort."