Smith takes charge in Girls' Lacrosse Senior Night domination
With a first round bye in the Region 5C Playoffs at stake, the girls' lacrosse team dominated the Mechanicsville Mustangs on Monday night en route to a 19-9 victory. Before the game, Clover Hill's honored their 11 seniors. Each of the 11 seniors started for Coach Rhonda Clopton.
The Cavaliers' 11 seniors are: Anahi Vasquez, Vianca Ruiz, Destiny Smith, Maggie Matzen, Hailey Morgan, Ava Harmon, Caitlyn Siljanoski, Caroline Holmes, Tessa Iorio, Emma Zblewski and Deja Smith. 
Vasquez plans to attend Ohio State University, Ruiz will attend VCU, Morgan will attend East Carolina University, Harmon will attend Central Michigan University, Holmes will attend Auburn University, Zblewski will attend Virginia Tech and Dej. Smith will go to North Carolina Central University. Des. Smith, Matzen, Siljanoski and Iorio will all attend James Madison University in the fall.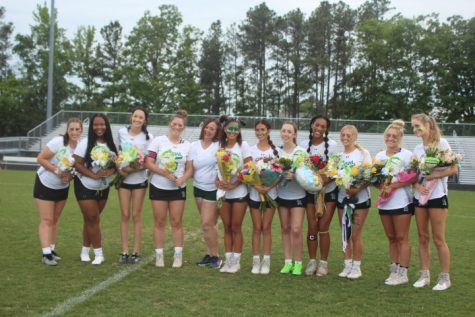 Led by Zblewski, Des. Smith and Vasquez, the Cavs went on a 4-0 scoring run over the first five minutes of the game, before the Mustangs finally scored with 20 minutes remaining in the first half. Without the Cavalier's opening scoring run at the beginning of the game, the halftime score would have been much closer than shown on the scoreboard, as Mechanicsville played goal-for-goal with the Cavs for the last 20 minutes. 
Thanks to six combined goals by seniors in Ruiz, Zblewski and Des. Smith, the Cavaliers carried an 11-6 lead into halftime. Sophomore Kinsley Varn-Holmes also found the back of the net with just over seven and-a-half minutes left in the first half.
Junior goalkeeper Grace Adams put in a tremendous effort during the first half, corralling six saves.
Outscoring Mechanicsville 8-3 in the second half, the Cavs pulled away in the scoring column. Des. Smith scored four more goals in the contest, while Zblewski added an additional underhand toss into the net. Zblewski and Des. Smith were Cavalier Chronicle Co-Players of the Game, combining for 13 goals and three assists, while shooting at a clip of 52%. 
Varn Holmes would find the back of the net twice more in the game with 11:23 and 5:20 remaining in the match. The second of her two goals came on an eight-meter shot. 
Adams would put in an even more impressive second half in the goal during the second half. She saved seven more Mustang shot attempts for a total of 13 saves in the game.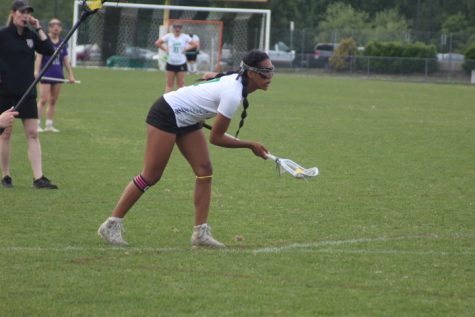 With the two seed locked up for the Cavs, they will receive a first-round bye into the semifinals of the Region 5C Tournament. Their next match up will not come until Tuesday, May 23 at Glen Allen High School against an opponent to be determined.