News roundup: 5/22 – 5/27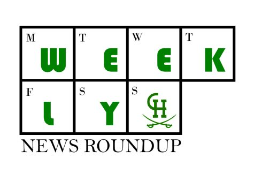 Announcements:
If you are interested in either hosting a Japanese student in March of 2024, or going to Japan in June of 2024, please see Mrs. Gladstone to be added to the Canvas course or check the morning announcements for the link.
Are you interested in helping raise money for cancer research and cancer patients? How about aiding the American Cancer Society in fighting against cancer? Well join the CHHS Relay for Life club! There'll be a meeting on Tuesday, May 23rd after school until 4 pm in room 425, in preparation for the next school year.
Last week:
This week:
Monday (5/15):
Foreign Language Honor Society inductions will be held in the auditorium from 5 p.m to 9 p.m.
Tuesday (5/16):
Wednesday (5/17):
There will be no school due to graduation.
Graduation will be held from 7 p.m to 9 p.m at the Siegel Center.
Thursday (5/18):
The Cursive Club will have a meeting after school in Mr.Goobic's room.
Friday (5/19):
Saturday (5/20):
Sports scores:
Boys tennis vs. Cosby: 2-7 Loss (5/15)
Girls tennis vs. Cosby: 1-8 Loss (5/15)
Boys lacrosse vs. Thomas Dale: 11-2 Win (5/15)
Girls lacrosse vs. Mechanicsville: 19-9 Win (5/15)
Softball vs. Cosby: 7-1 Win (5/16)
Boys soccer vs. Cosby: 0-1 Loss (5/16)
Baseball vs. Cosby: 1-8 Loss (5/16)
Girls soccer vs. Cosby: 0-5 Loss (5/16)
Boys soccer vs. George Wythe: 6-1 Win (5/18)
Baseball vs. George Wythe: 13-0 Win (5/18)
Varsity sports record updates:
Softball: 13-5
Baseball: 6-14
Boys tennis: 7-9
Girls tennis: 8-7
Boys lacrosse: 5-7
Girls lacrosse: 9-5
Boys soccer: 10-5-1
Girls soccer: 8-8
In the community: 
Electric outages in the Richmond area have left over 2,000 people without electricity