Allies Club uplifts LGBTQ+ community and provides safe space
Jacky Le, Chronicle Staff Writer
December 2, 2020
The Allies Club, a new group for LGBTQ+ students and allies, has formed this year on the Hill, promising an inclusive community for all.
Art teacher Haley Ferguson, sponsor of the Allies Club, wants to foster a safe and welcoming space for students.
"Our goal is to create and promote a safe and welcoming environment for all students," Ferguson said. "Especially for students within the LGBTQ+ community." 
With 56 members at its first meeting, Allies is a rapidly growing space for those who associate with the LGBTQ+ community. The founders want to make an inclusive space for everyone.
Senior MaryGrace Gozzi sees the club as a place where all are welcome and where a person knows that they are not alone.
"The goal right now has just been to get the word out about the club, which seemed like it was a success at the first meeting," Gozzi said. "The creation of the club was inspired by the lack of any space for the LGBTQ+ community. The founders were all disappointed with [that], and so we formed the club to fill that void."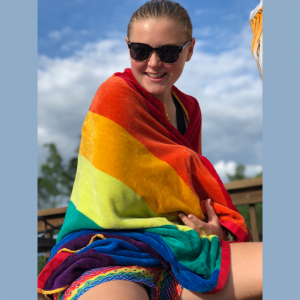 Senior Maddie Campo hopes to see the club reinforce positivity among members and within Clover Hill at large.
"Ways to support the community and spread awareness [are] coming," Campo said. "We do have a few projects on the way, including some merchandise with a rainbow CHHS logo to show support for the LGBTQ+ community." 
Ferguson is hopeful for the club's growth and wishes to do more in-person activities in the future. 
"We hope to do some community things once we have moved past all of the COVID restrictions and are able to meet in person," Ferguson said. "I think everyone should join the allies."
The club meets every even Wednesday at 12:00 p.m. Anyone, regardless of gender and sexual identity can join the club by showing up in the Google Meet: CHHSAllies.