Art by Cavaliers sparks creativity at home
Art classes provide creative alternatives for students to find an escape from the academic rigors that core classes can bring. Students across CHHS are creating art that reflects their creativity and issues important to them. 
When junior Melanie Garber created her piece, "Petals in Water," she wanted to reflect the current social climate within our country through the image of hands. The hands are shown sharing some flower water as she wanted to emphasize the importance of unity during these tumultuous times.  
"I chose hands because I have found that they are really interesting to draw," Garber said. "There are so many options they can be modeled after."
She chose a light pink background to complement the color scheme of the hands, and she chose a medium that would help her practice her color blending skills.
"I chose acrylic paint because I had a large canvas sitting around for a while, and I thought it was time to use it. While I'm exploring the human subject matter, I am staying the same with my medium of acrylic as I have never used oils before," Garber said.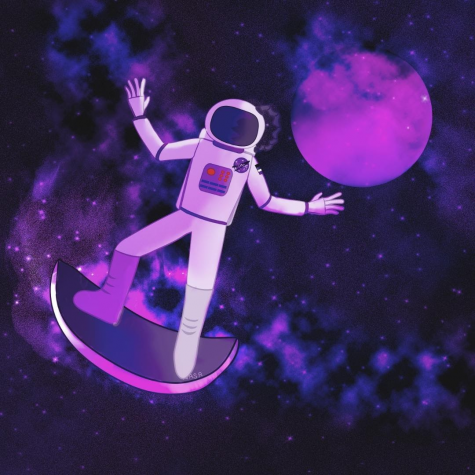 Asexual people, commonly known as aces, are people who abstain from sexual activities. Senior Evvy Fite wanted to create a piece based on "space ace," the fun term coined to show that asexuals prefer other things, such as space. The piece features an astronaut drifting through outer space on a board and centers around the colors of the asexual pride flag: black, grey, white, and purple. 
"When I saw the AP prompt was space, 'space ace' immediately came to mind," Fite said.   
Fite used a blend of two programs, Adobe Illustrator and Photoshop, to create the out-of-this-world scene: Photoshop for the blue themed galaxy and planet and Adobe Illustrator for the astronaut. For many artists, working digitally is more forgiving since they can erase and try again. There is also the advantage of copying and pasting previous artwork and altering it to fit with the subject of the new piece. 
"I thought it would be interesting to combine the two programs since most graphic designers only use one at a time," Fite said. "I've gotten way more comfortable with the experimentation part in the past few months."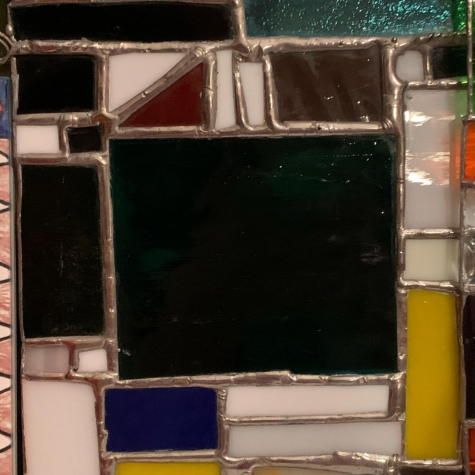 Senior Grace Jackon based "Stained Glass Academia" off of one of her favorite shows, My Hero Academia, an animated series that follows middle school student Deku, a character who is born powerless in a power hunger society. 
"I do a lot of drawing and 2D art on my own time, so 3D art is a fun and welcome change compared to what I'm used to," Jackson said. "I always like challenging myself." 
Using a glass cutter and other machinery to hand cut each glass piece, Jackson specifically chose colors inspired by the show. "I always try to create whenever inspiration strikes: be it the form of stories, music, poems, or art, both 3D and 2D," Jackson said. "It's been harder to find that inspiration while being stuck at home, but when I do get inspired, the ideas are bigger and more extravagant than they've ever been."
If you have any art that you would like to show off in the Cavalier Chronicle, please reach out to us at [email protected]!