Cavaliers utilize art as an outlet
Amidst this new year, students are finding new methods and mediums for creating art at home. On the Hill, art classes give students a means to communicate their own artistic expression about their interests, current events, and more. 
"Voices of the Unconventional" by Quyen Nguyen, 10th  
Sophomore Quyen Nguyen based her piece, "Voice of the Unconventional", on the rough mountainous and desertlike terrain inside her favorite band ATEEZ's music video, titled "Pirate King." She says that the colors of the clothes complement the muted tones and rough textures while highlighting accent colors within the backdrop. 
"The subject of the piece is a band that inspires me creatively through their unconventionality and challenge against gender norms," Nguyen said. 
For most of her pieces, Nguyen chooses to use the app Procreate because of its versatility and user-friendly features. She says that the creation process varies for each piece but sometimes she will just begin creating without brainstorming. 
"When I create art, I tend to consider the principles and elements of art, then analyze how I will utilize it in my design," Nguyen said. 
Art has become an avenue of expression for Nguyen while she is stuck at home. It helps her alleviate stress from academic classes and is a creative outlet to funnel her ideas. 
"Despite virtual learning, the thought process has relatively stayed the same with the exception of added stress from school work which usually fades as I envelope myself in the process of art making," Nguyen said.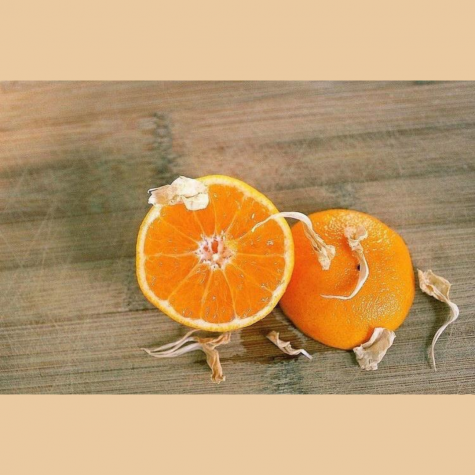 Sweeth Tooth by Giuliana P. Amedeo, 9th
For some students, like freshman Giuliana P. Amedeo, art can be found in daily objects such as the orange in her piece "Sweeth Tooth." A great majority of her photo subjects consist of mundane objects that most people wouldn't take a second glance at. 
"I chose an orange because I've always found oranges visually appealing because of the bright colors and various lines," Amadeo said. "I always try to take pictures of unexpected things. As an example, one of my favorite photos is of a dead dandelion." 
She shot her piece with a Canon EOS Rebel T6 with a close up lens since it takes better close up pictures than her Canon Powershot SX350. Then, she went in post production to increase the saturation and vibrancy to make the colors pop. 
Amedeo started taking photos for funtwo to three years ago, before taking photography class this year.
She uses photography to stay occupied while quarantined at home.
"I've taken so many more photos since Covid than I [did] pre-Covid, and I think it's made me gain a whole new love for the art," Amedeo said.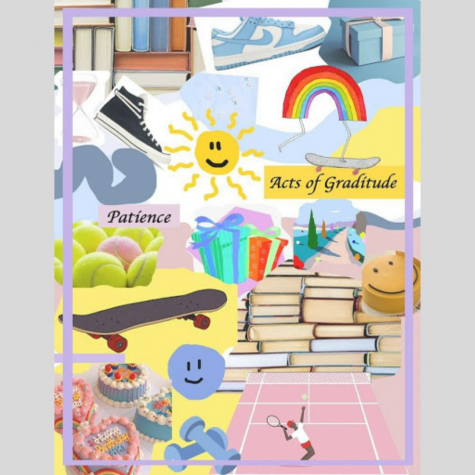 I hope 2021 by Andrea Rojas Ramirez, 11th  
Junior Andrea Rojas Ramierz's piece, "I hope 2021," reflects the optimistic sentiment she holds for the coming year. Her piece is filled with snippets of her favorite activities, foods, items, and more.  
"This is my vision board that I did in my graphic's class for an assignment. It includes some things that I am looking forward to doing or experiencing this new year," Ramirez said.
She says the changes associated with a virtual art classroom are challenging in some aspects. For example, she can no longer receive immediate feedback or advice from her teacher as she works on new projects.  
"However, we get to see the art of our classmates like in school which sometimes inspires me," Ramirez said.  
The piece was also a challenge for Ramirez since she used Photoshop, an unfamiliar medium for her. Using this software, she experimented with a pastel color palette which contrasted greatly to the bright colors she usually chooses. 
"I think the process of making art is experimental. I usually try different things and hope for the best. It usually ends up good and pushes me to new things," Ramirez said.