Cav Man returns to the Hill
Coach Michaela Smith and her Cavalettes are bringing back one of the oldest yet most beloved high school traditions, a school mascot. Clover Hill's mascot, Cav Man, recently reappeared after a five year hiatus. 
Smith held tryouts on Sept. 27 right after school. Participants learned and performed a routine taught to them by the Cavalettes' captain, senior Caroline Walker. The students who tried out had to bring energy, excitement, and a well rounded performance in their audition in order to get the judges' attention. 
After the tryouts, Smith selected at least one student to be Cav Man. However, their identity is to remain unknown until, as Smith put it, "potentially later this year". 
Smith believes it is important to have a mascot because they bring excitement and spirit to the school. 
"I think that it's great to have one because I feel like we need some school spirit to boost us up and to get our student section really excited," Smith said. "[It is important] to continue to support all of our sports teams and all the hard work everyone is putting towards school athletics."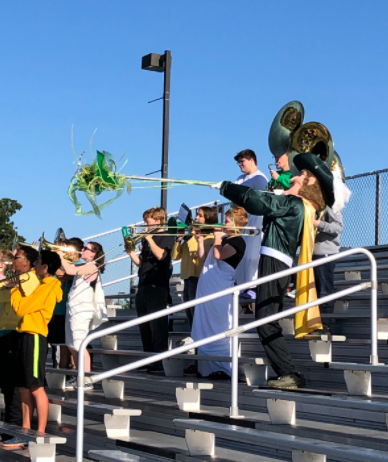 Mascots are famous for their entertainment and high energy to keep the students' mood high. Whitney Cardwell, who is a member of the Cavalettes and served as one of the judges at the audition, agrees that the mascot is there to boost students' moods.
"I actually do think it's important to have a mascot because it shows a sense of school spirit," Cardwell said. "The mascot is there to pump the school up and the people who tried out were making me excited and would make me stay at the game no matter if we win or lose."
On Friday, Oct. 7, Cav Man surprised students and staff at the powder puff game and the pep rally when he appeared for the first time in five years. For many this was their first time seeing Cav Man, who will continue to appear at Clover Hill events to boost spirit and at games to support the sports teams.