Step team to host school-wide talent show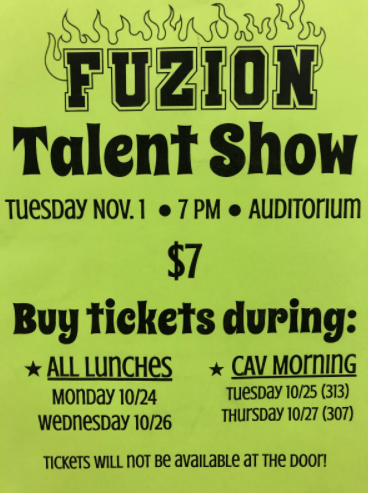 The step team is organizing a talent show to showcase students' talents. The Fuzion Talent Show will take place at 7 p.m. on Nov. 1 in the auditorium, and it will give these students an opportunity to perform their acts in front of the school.
The talent show will act as not only a safe place for students to show their hidden skills and talents but also as a fundraising event. The step team will use all proceeds collected from the event to buy new uniforms. 
The show is a school wide event and everyone with a ticket is welcome to attend. Students can buy tickets during lunches on Monday and the Wednesday and during Cav Morning on the Tuesday and Thursday in rooms 313 and 307, respectively. The tickets cost $7, and they will not be sold at the door.