Write Aid opens to students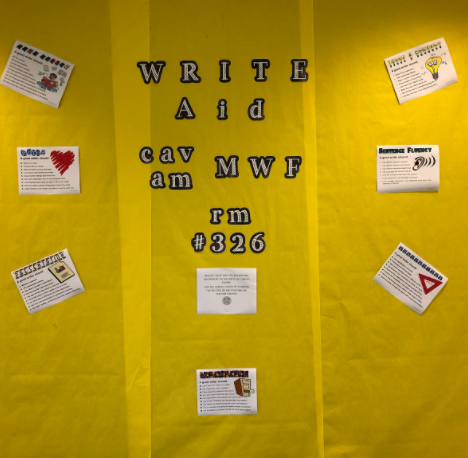 Clover Hill's writing center, Write Aid, is getting started for the 2022-2023 school year. At Write Aid, students can receive help for writing assignments from any class. This year will be the center's second after it was established last year by the Clover Hill English Honor Society and English teachers Caity Gladstone-Mueller and Jessica Fout.
The student tutors at the center can assist with brainstorming, organizing, revising and editing. Students can sign up for an appointment by scanning the QR code on the Write Aid flier in each English class. They will then receive a pass the morning of their appointment in first block. The center is open during Cav Morning every Monday, Wednesday and Friday in room 326. 
Gladstone-Mueller believes that the writing center is valuable to students because it is helpful to have someone else look over a writing assignment before it is graded.
"Oftentimes, when we read something we've written to ourselves, it sounds perfect because we know what we're trying to say," Gladstone-Mueller said. "But then when your English teacher reads it, they're lost."
The writing center can provide that service to students, and Gladstone-Mueller is confident that it will help students improve their writing and earn better grades.
"We can help you determine what's working or not working," Gladstone-Mueller said. "Or if you're stuck and need someone to help you, we're probably a better option than your friend who will get distracted with your plans for the weekend."