New Dimensions and Iridescence open season with in-school show reveal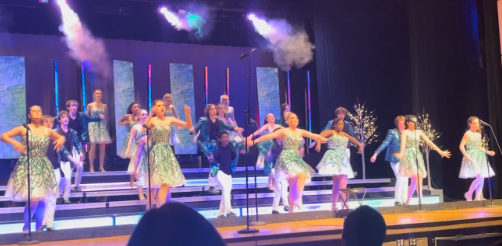 The two Clover Hill High School (CHHS) show choirs, New Dimensions and Iridescence, finally revealed their 2023 shows during performances from Jan. 27 to Jan. 29. The theme for the New Dimensions choir, which is a mix of boys and girls, was "fire and ice" while Iridescence, the all girls group, is "road trip." 
During the public opening, the show choir performed four times for the weekend-long event. The show consisted of bright colorful lights, eye-dropping costumes, creative stage props and well-crafted vocals. Solos performed by different show choir members covered various genres of music, including rap. All the proceeds from the event will go towards savings for next year's program. 
The costumes for each group of the choirs were reflective of their theme. Iridescence used the classic choice of blue jeans, a tee shirt and a white jean jacket for their performance. New Dimensions, on the other hand, split the boys and girls into two sections. For the first half of their performance, the performers each represented fire, while in the second half they represented ice. Their choice of color within costumes and the symbolism of each song reflected the theme to the audience. Each song performed by New Dimensions implemented their theme with word choice. Stone Cold, performed by Ivey Critzer, used the underlying theme of the title of the song to enhance their performance. Similarly, Iridescence's soundtrack included common songs found within a road trip playlist.
This was Nicole Whitby's debut as the new show choir director in her first year teaching chorus at Clover Hill. Whitby herself was a part of her high school and college show choir. Every day she uses the skills acquired from her past experiences with show choir to help with her teaching and directing.
"For vocals and stuff I am kind of incorporating more of what I learned in college but for choreography I definitely hone into what I did in my high school career," Whitby said.
Show choir participants worked during and after school for their first reveal to be the best it could be. The reveal was mainly intended to showcase the students' hard work but to also start saving money for next year's program.
"Students do pay fees so that does usually cover a broad amount of what we spend in one year," Whitby said. "Fundraising will be used towards trips, costumes, set designs, music and all those things."

Whitby does have some concerns that there are not as many people in the show choirs this year in comparison to previous years. Whitby believes the students have worked extra hard to pull it off. In the future Whitby does hope that next year she will be able to double the numbers of each group. 
Senior Nathan Rogers is a dance captain for New Dimensions. Rogers believes this year's show will be a work in progress where they make improvements continuously throughout the season, as opposed to one set routine.
"I'm excited because sometimes things feel like they kind of go stale and you're stuck with the same show for a while so I am excited to keep improving throughout the season," Rogers said.
After participating in show choir for four consecutive years, Rogers believes Whitby is doing an excellent job and has taught him more on music theory and music in general than he has ever learned before. 
Junior Joshua Eaton, who is the president of New Dimensions, believes the show choir is a safe place to bring people from all over the school together to share their love for music.
"I think our love for music brings us all together because we are all from different parts of the school," Eaton said. "I think our love for music and the relationship we build over it makes us become a close group."
New Dimensions and Iridescence will perform their shows at competitions and school concerts for the rest of the 2022-2023 school year.