2023 spring sports preview
Baseball
The baseball team exceeded expectations in the regular season last year in a season that ended in the Regional Semi-Final game to an excellent Glen Allen lineup. Their 12-9-1 record was the best that the team has seen since Coach Brett Mooney took over the squad. After a month of March that saw the team go 2-3-1, the Cavs found a groove, only losing one game in the month of April off the back of an 11-run victory against the Monacan Chiefs, a 23-run win against the Huguenot Falcons and a 14-run triumph over the L.C. Bird Skyhawks. 
Ten seniors left the team after the 2022 season, meaning that the Cavaliers will look to fill multiple holes with the losses of Virginia Military Institute utility player Clark Driscoll, Benedictine outfielder Bryce Adams and Christopher Newport University walk-on Will Maloney. With a lack of an upper class presence on the team this year, Mooney will look for some of the younger players to step up.
"It's going to be a 'next man [up]' mentality," Mooney said. "Whoever the next guy is, you fill those shoes immediately. The biggest difference maker is going to be Preston Corbitt; he's a junior. He's an energetic guy. He's the kind of guy who brings enough energy to put a team on his back." 
The Green and Gold will begin their 2023 campaign away against the Thomas Dale Knights at 5 p.m on March 13.
Softball
Following a very successful season, which saw the team go 16-3 in the regular season in 2022, the 5C Regional Tournament Runner-Ups are only getting older and stronger. Only a few seniors graduated after last season, so the Cavs will retain much of their State Tournament team, including senior Angelina Branch and University of Virginia commit junior Addison Thompson. 
With virtually the same team as last season, the team will look to continue the Dominion District and Region 5C dominance that surfaced last year. Branch hopes that the similarity in their roster this season leads to high expectations in 2023.
"I expect our team to have a winning record, [win] the regional championship, play in states and hopefully win out," Branch said. 
Team chemistry is also bound to take a leap this season. With much more veteran leadership as compared to last season, Branch believes that chemistry, especially early in the season, is going to have a big influence on the success of the team. 
"Team chemistry is everything, and [that] is the main reason we are doing so well right now," Branch said. "Already, this season has proven how being close and being able to lean on each other helps us get leads and ultimately win".
Softball will begin their season at Thomas Dale High School on March 13 at 5 p.m.
Boys Soccer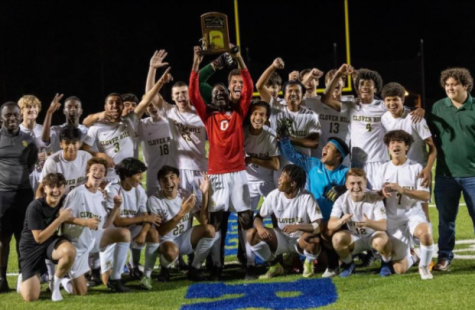 The Cavaliers are coming off of a memorable 2022 season, upsetting the undefeated Freeman Mavericks and loaded Deep Run Wildcats on their way to winning the 5C Regional Tournament for the first time since 2004. With their Regional Championship, the boys hosted a Class 5 State Quarterfinal match versus the Riverside Rams from Loudoun County; however, saw their State Tournament aspirations cut short in a two to three defeat to the eventual State Runners-Up. 
Luckily for the Cavs, the squad retains most of their starters, including seniors Michael Hunter, Ian Hooks, Dominick Campo, Adam Selby, Edwin Villatoro, Harrison Dorgan and Corbin Jensen and junior Luciano Jara. 
Senior captain Dorgan has enjoyed his tenure as a Cav. 
"I cannot wait to see what we accomplish this year through perseverance and determination," Dorgan said. 
In addition to the returning starters, junior Ahmed Aljassar transferred to the program this year. Aljassar had a productive season last year with the Meadowbrook Monarchs, helping lead them to a Regional semi-final appearance. 
"[I am] excited to get straight into work… big things for me and the team coming this year," Aljassar said. 
However, despite a great overall season with a lot of team success, Hunter and Selby are the only returning players who received All-Region honors, earning a spot as an honorable mention and the All-Region third team, respectively. 
The boys begin their season on the road against James River on March 16.        
Girls Soccer 
After finishing with an 8-9 record, falling in the quarterfinals of the 5C Regional Tournament to Deep Run, the girls soccer team is looking to take a big step up this season. The Green and Gold is bringing some fresh faces to the squad this year, something that senior Katie Morton believes will encourage the team to take many strides in 2023. 
"We have some new freshmen that are good and will be able to add some fresh players to the team," Morton said. 
The girls finished fifth last year in the Dominion District, struggling against the upper tier of opponents such as Cosby, Midlothian, Monacan and James River. However, Morton and the team are striving to overcome those challenges. 
"We are hoping to be heavily competitive [against those tough squads]," Morton said. 
Playing alongside Morton this season include returning stars such as senior centre back Maddy Cheatham, senior midfielder Kayla Pulliam, junior midfielder Ellie Diehl and junior midfielder Rylee Wampler. Diehl and Wampler contributed 19 goals and 17 assists combined, leading to an All-Region honorable mention and a spot on the All-Region third team, respectively. Cheatham committed to play soccer at Queens University of Charlotte, and finished last season with four goals and three assists, earning a spot on the All-Region third team.
The Cavs hope to contend this year in a tough region, and open their season on March 16 versus James River.
Boys Lacrosse 
After a tough 2022 campaign that saw the team go 1-13 in a competitive Dominion District, the boys lacrosse team will look to regroup this season in hopes of a more successful campaign in 2023. Led by senior leadership in the form of Cameron McCann, the Cavs will hope to improve from last season. McCann believes that a fresh start for the team is all the Cavaliers need to take a leap from 2022. 
"This season, the boys lacrosse team will have a tremendous jump from previous seasons while building a young team," McCann said.
In terms of the senior leadership that the Cavs will look up to this season, McCann believes that it all starts with creating friendships that will lead to team chemistry.
"We need to maximize our effort on and off the field for not only our skills, but to build a strong team bond to create chemistry," McCann said.
The Green and Gold will start their quest this season on March 13 at 7 p.m. at Goochland High School.
Girls Lacrosse  
In 2022, the Cavaliers finished third, directly behind Powhatan and Cosby teams that dominated the Dominion District last year with records of 14-2 and 12-5, respectively. Experience will play a massive role in the performance of the Green and Gold this year. Coach Rhonda Clopton will welcome back 12 seniors and seven juniors to a team that consists of 21 players. 
Senior defender Caroline Holmes believes that the team will take a massive step up from last year with a roster full of veteran leadership. She also says she is excited about playing with the team once again.
"We have [great] team chemistry, and all of the juniors [and seniors] have been conditioned [together] since freshman year," Holmes said.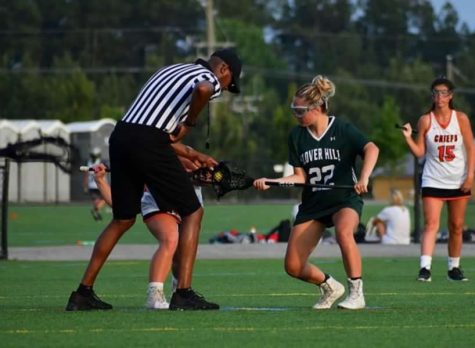 The Cavs will bring back a squad chalked full of talented seniors. Attack players Emma Zbelwski and Anahi Vasquez, as well as midfielder Destiny Smith finished last season with All-Region honors, making the second and third teams, respectively. Holmes also made the All-Region third team despite missing the end of the season due to a shoulder injury. The Cavaliers are poised to compete again in the Dominion District. The girls open the regular season on the road against Goochland on March 13 at 5:30 p.m. Expect a successful season, once again, for the Cavs in 2023.
Track and Field
After a tremendous winter season that saw the Cavs win states in the 4×800 meter relay, track and field will set their sights on winning another championship in the spring. Led by a multitude of upperclassmen speedsters, including Andrew Bennett, Chris Henry and Longwood commit Clinton Clancy, the Cavs will hope to win a regional championship after coming third overall during the winter. Bennett and Clancy both participated in the Cavs' state winning 4×800 meter relay. While running has become a staple of Clover Hill track and field in recent years, Coach Kwame Mcfadden will look to step up many other facets this season, especially in the 'field' department.
"We're expecting to get more output from the hurdle events and throwing events as we have improved in those events," Mcfadden said. 
While certainly looking to place a larger emphasis on those aspects of the sport, Mcfadden hopes to continue the school's impressive track record.
"We expect to field both 4×200 and 4x400m teams at the Regional Championship, [that] should offer us an outstanding opportunity to win the championship," Mcfadden said. "We expect to continue our dominance in the region with our distance, sprint, and jump teams."
On the girls side, Mcfadden brings back many talented underclassmen from a team that was the Regional runner-up in the winter, including junior Torie Satterwhite and freshmen Malaysia Reed, Kyra Williams and Leilani Johnson. While certainly focused on this year, Mcfadden believes that the future of the program can provide for something special.
"We expect to be competitive in the region this season with the return of our core sprinters and jumpers," Mcfadden said. "The average grade is 9th for most of our team so the future looks bright."
The boys and girls Track and Field teams will begin their seasons with a series of relay races at Highland Springs on March 25. 
Boys Tennis
The boys tennis team could be in for a tough start to the season, as the school has yet to announce a coach for the Cavs. Senior Ohm Tripathi has been one of the team's members helping in the coaching search.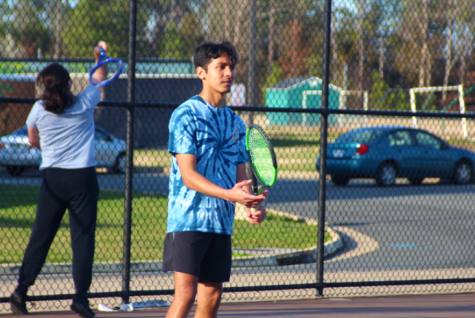 "We have been putting a ton of effort," Tripathi said. He continued, "We have been talking to staff, talking to teachers… conversing with counselors… and even Mr. Phillips is putting in work," Tripathi said. 
However, Tripathi believes that the coach's role is limited.
"We are very individualized and we are a self-run team," Tripathi said. 
The team finished fifth in the district last season, behind Midlothian, Cosby, Powhatan and James River, but members of the team believe that they can surpass James River and Powhatan after very tight matches last year. Despite the absence of a coach, Tripathi still feels that the team will see improvements from last Spring. 
"While we did have great seniors last year, they were plagued by injuries… and [this year] we have a lot of people that are passionate about the sport," Tripathi said.   
Update: The boys have now officially hired a coach for the upcoming season.
Girls Tennis 
The loss of Sia Chaudry can be compared to the departure of LeBron James when he left Cleveland for South Beach and the Miami Heat. Chaudry graduated from Clover Hill last year, and left a legacy that will be very hard to live up to. Chaudry closed out her high school tennis career winning the State Tournament and a scholarship to Navy. 
"Losing [Chaudry] makes the team more nervous to play matches, especially against hard [schools] because everyone knew that [she] would win," junior Saanvi Jha said.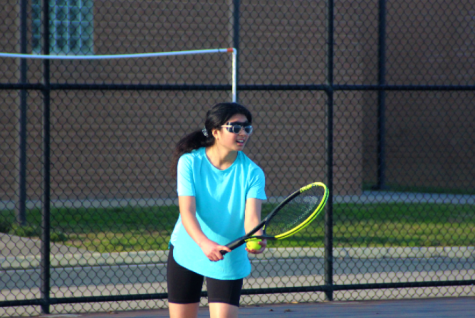 Jha is a returning player from last year's squad, and is really excited about the improvements made in the offseason regarding the coaching staff. 
"We have Coach Harris this year, and he is an actual coach, [which is different from last year] since we just had a parent supervise us last year," Jha said. 
Over the past couple of weeks, Jha noted that Coach Harris pushes and advocates for technique and ability, and Jha claims that this addition to the team's training has improved the overall squad. 
Sophomore Maggie Barker will hope to fill the hole that Chaudry leaves, likely taking over the number one spot on the team and the team captain role. 
The girls have their first meet set on March 13 against Godwin High School at 3:30 p.m.