Track and field athletes compete at indoor state championships
On Friday, Feb. 24 and Saturday, Feb. 25, 11 Clover Hill indoor track and field athletes participated in the Class Five state championship at the Virginia Beach Sports Center.
The athletes got the opportunity to participate in the state championship by either running the qualifying time in a race this season or finishing in the top three in their event at the regional meet. These athletes have trained and worked hard all season to train for this meet.
On the girls' team, Malaysia Rasheed came in 18th place with a time of 7.60 seconds in the 55 meter dash. In the 4 by 200 meter relay with a time of 1:47.51, freshmen Malaysia Rasheed, Leilani Johnson and Kyra Williams with junior Torie Satterwhite came in 8th place.
     On the boys side of things, the 4 by 800 meter dash relay won the state championship with a time of 8:04.15. Seniors Andrew Bennett and Clinton Clancy and juniors Caleb Wilcox and Andrew Hathaway participated in that race. 
Clancy is thrilled that the Cavs were able to win the 4 by 800 relay state championship, especially after they fell one place short in the cross country state championship in Nov.
"It's something we've been surging for," Clancy said. We've been pushing up to this, and we were finally able to do it, and it was a great feeling."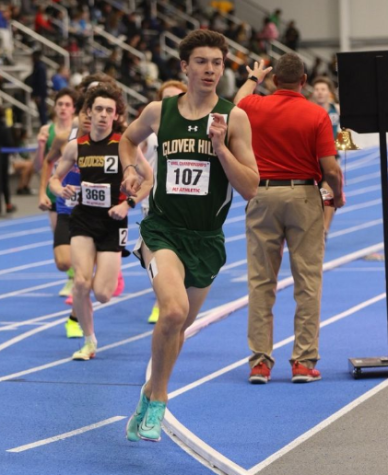 The boys' distance runners also competed in individual events. Wilcox finished in second place in the 1600 meter run with the time of 4:19. Clancy, in the same race, finished in fifth place with a time of 4:26. Bennett, in the same race as Clancy and Wilcox, came in seventh place with the time of 4:28. 
Clancy finished in ninth place in the 3200 meter run with a time of 9:52. Following in the same race, freshman Ethan Thorne finished behind Clancy with a time of 9:54, earning tenth place. Hathaway raced the 500 meter dash and finished with a time of 1:06.71 to come in sixth place. 
Bennett believes states went smoothly due to the fact they won the championship in the 4 by 800 relay. He also feels that he ran a strong 1600 meter race. 
"States were fun, it was my third indoor states," Bennett said. "It was definitely a great experience to compete against the best."
The only sprinter on the boys side to qualify for states, senior Chris Henry, came in 14th place in the 55 meter dash with the time of 6.68 seconds. 
The track and field team will now turn their attention to the outdoor season, which begins with their first meet on March 25 at Highland Springs High School.