Missed free throws late lead to Cavalier defeat
The boys basketball team fell to Huguenot, 61-54, after the Falcons were able to make key three's and free throws down the stretch. Additionally, the Cavaliers missed eight free throws in the second half, which proved to seal the fate of the four quarter duel.
Led by seniors Grafton Allen and Bryce Matthews, the Cavs took a five point lead into the break after the first quarter. In that first quarter, Matthews electrified the crowd with a fastbreak dunk with two minutes remaining in the quarter. In addition to his tremendous offensive performance, Matthews contributed three blocks in the quarter.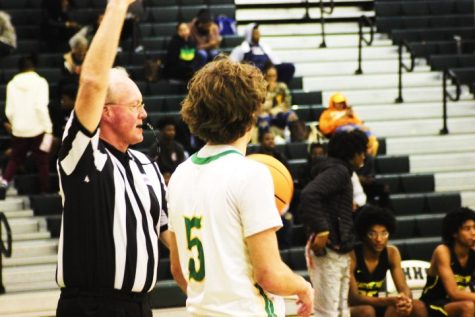 Early in the second quarter, junior guard Mikea Lewis energized the Cavs with a trip to the line, after being fouled on a hard earned layup, leading to a four point lead going into the second half.
Added to his three blocks in the first, Matthews produced two more in the game. With a 12 point, 11 rebound double-double, Matthews won the first Cavalier Chronicle Player of the Game award for the boys basketball season. 
Leading scorers in the game include the aforementioned Lewis and Matthews, as well as sophomore Brandon Hill, with 18, 12 and nine points respectively. 
While missed free throws played an important role in the outcome of the game, turnovers also proved to play a key role in the contest, as the Green and Gold turned the ball over 19 times.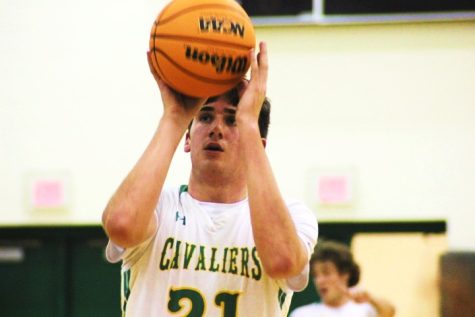 Ironically, the Cavaliers performed very well at the free throw line through the first half. After shooting 18-20 from the line in the first half, the Cavs only shot 2-10 in the second half, points that could have proven to change the course of the game.
Coming out of the halftime locker room with a 32-28 lead, the Cavs let up 14 points to their seven en route to a three point deficit at the end of the third quarter. Huguenot outscored the Cavs by four points in the fourth quarter as well, leading to a Cavalier defeat in their home opener.
The Green and Gold will look to win their first game of the season when they travel to Manchester High School on Dec. 8 at 7:15 p.m.