Ben Schneider breaks down his journalism career
With the end of his high school career approaching, senior Ben Schneider recalls his introduction to the Chronicle. He was introduced to the newspaper when he was a freshman and he joined the subsequent year, starting a three year journey that led to national publications, an all-county award for journalism and 105 published stories.
"I walked through the door to go into school in the morning and the journalism class was standing at the door," Schneider said. "[They were] handing out physical newspapers, because it was back before COVID, and one of them just shoved it into my hands. I did not even know what it was. I was flipping through the stories in class and I just kind of got that feeling like 'I want to do that.'"
Initially, Schneider had doubts about the class. In spite of this, Schneider quickly grasped the concepts of journalism, having eight stories he wrote for the Chronicle earn "Best of SNO" awards and become published on the national student journalism website bestofsno.com for being among the best stories added to a Student News Online site. 
"I did not know if I would like it or if I would be good at it," Schneider said. "I ended up loving it. I spent three years in it and I think it is one of my favorite things I have done in high school."
Being a good Editor-In-Chief calls for a variety of skills, one of the most important of which being leadership. During his time with the Chronicle, Schneider believes he has greatly improved his abilities as a leader, and has learned a lot from his responsibilities as EIC.
"There is a responsibility there that I have not gotten from anything else," Schneider said. "When you are an Editor-In-Chief you are responsible for the Cavalier Chronicle and its success. That is a responsibility and I really did not take that lightly. This newspaper really matters to me a lot, so I wanted to make sure it was good."
Through the Chronicle, Schneider has gained a strong connection with his community. He has developed a drive to know what is going on around him.
"I kind of made it my job to know what is going on," Schneider said. "Especially with the weekly news roundup that I started this year. I feel like that did connect me [to Clover Hill]. I went to so many things that I probably would not have otherwise. I have talked to so many people that I might not have talked to otherwise. It is just a really meaningful thing and something that I will remember."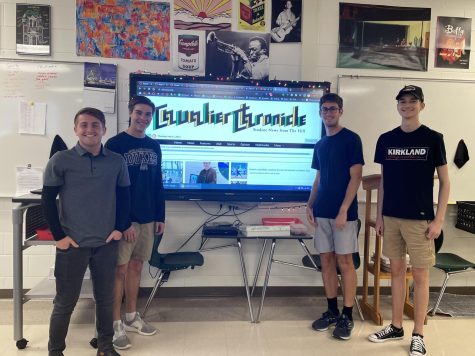 After graduation, Schneider plans on attending Virginia Tech for computational modeling and data analytics (CMDA) with a double major in meteorology. His knack for STEM (Science, Technology, Engineering and Math) fields led to this decision.
"It has just kind of always been something I want to do," Schneider said. "I also just love nature and the environment, so I am thinking about combining this somewhere into the realm of Earth or environmental sciences."
At Virginia Tech, he also plans to continue with journalism by writing for the student newspaper, the Collegiate Times.
Schneider hopes that students will continue supporting the Chronicle and the work that goes into it after he leaves. 
"Keep reading the Cavalier Chronicle," Schneider said. "We put a lot of hard work into it. I loved my time with the Chronicle; I loved writing these stories. It was a great time."