Day in the dark: inside the power outage that canceled school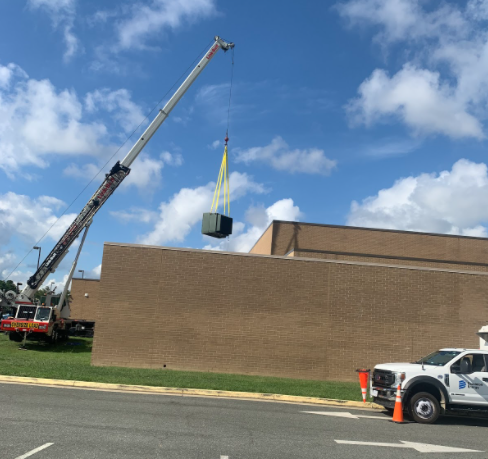 On the morning of Sep. 13, Clover Hill students woke up to a message from Principal John Phillips and Chesterfield County Public Schools; it told them that school was canceled for the day due to a power outage in the building. 
Most students immediately celebrated the unexpected day off and went back to sleep, turned on the TV or finished some homework. However, the administration and building maintenance crew did not have the luxury of going back to sleep. Instead, they had work to do. Building Operations Specialist Wayne Ludwig first noticed the outage when he arrived at 5 a.m and immediately contacted Phillips. 
"That was a pretty memorable morning for me because I was like 'oh no, the kids will be here in an hour; we need to act fast'," Ludwig said. 
According to administrator Eric Pioch, the school immediately followed protocol and communicated with the county about closing for the day and how to restore power. 
"When you make calls like shutting an entire school down, you're gonna bring in county reinforcements [and do] whatever is necessary to make that determination," Pioch said. 
The county ultimately decided to cancel school for the day for Clover Hill and Phillips communicated the change to the students, their families and the staff. Pioch maintains that it is not safe to hold school with no electricity.
"For the day, we're not going to have air conditioning and light and that's not safe for students," Pioch said. "So then Mr. Phillips gets to go ahead and start contacting the appropriate people."
Once school was canceled, it was time to focus on identifying the issue and turning the power back on. Ludwig initially assumed that it would be an easy fix. However, he realized that the school had completely lost power once he looked inside the electrical equipment and saw nothing wrong with the circuit breakers, indicating that it was a more serious problem. He did not know the cause until he saw the transformer.
"As the sun started coming up, I realized that we had a transformer that was sitting in a puddle of oil out there," Ludwig said. "So what happens is the oil cools the transformer. When the oil leaked out of it the transformer got too hot and blew. Once I figured that out, we had to call Dominion Energy." 
Dominion's senior communications specialist Craig Carper confirms that the outage was a result of equipment failure with the transformer, which is responsible for transferring the electrical energy from the power lines to the school while also reducing its voltage. 
"A 1500KVA transformer was leaking oil and failed," Carper said. "This is rare but all transformers need to be replaced eventually. 
According to Carper, it took five hours and 45 minutes for Dominion Energy to fix the problem and get the power back on. They had to clean up the oil and use a crane to lift out the old transformer and install a new one. Ludwig considers the timeline to be a miracle; he thought it would be a two day project. 
"[Dominion Energy] found the crane that they needed across town which was a miracle," Ludwig said. "Then they actually had the transformer, the exact one because there's a lot of different ones, and that was a miracle." 
Pioch agrees that Clover Hill was fortunate that there was a crane and a new transformer close enough to have the clean-up, removal of the old transformer, installation of the new one and power restoration happen in only a few hours. Similar incidents have happened across the country, including at fellow Chesterfield County high school Cosby, and they can take more than one day to fix. 
"We did catch a break or two," Pioch said. "That happened at Cosby [High School] four or five years ago and they had to bring in a transformer from Norfolk. So it didn't even get here until four or five p.m. and I think they ended up missing two days."
This time, the new transformer was installed on time for school to resume as normal the next day.
"When we got the power back on, everything pretty much came up like it should," Ludwig said. 
However, getting the power back on was not the only challenge of the day. Some students, like senior Angel Birkmaier-Vasquez, showed up at the building ready for the day after not seeing the message in time. 
"We pull up to the school and we see nobody's there and we're all very confused," Birkmaier-Vasquez said. 
However, Birkmaier-Vazquez found out that there was no school after an administrator came up to his car and told him. While Dominion Energy was working on fixing the power, Pioch and the rest of administration were guiding anyone who came to the school and directing buses that use Clover Hill as a stop. 
"Admin got called in and we got here as quickly as we could, as early as possible, to help redirect families that didn't get the message," Pioch said. "We even had two teachers who showed up for work." 
"
As the sun started coming up, I realized that we had a transformer that was sitting in a puddle of oil out there"
— Wayne Ludwig
Still, Ludwig believes that he detected the problem early enough to avoid the catastrophe of everyone coming to the school when there was no power. 
"Somehow they were able to stop the kids from coming in that morning because of course we didn't want y'all here and sitting in the parking lot," Ludwig said. "I was so glad about that. I was like 'if I don't make the right calls in the right amount of time the school buses will be here,' and that was a big deal. So things really worked out." 
Carper is confident that a similar outage is unlikely to happen for another 30 years unless the electrical unit experiences external trauma from something like a falling tree or a vehicle crash. However, he thinks there are ways schools can prepare for losing power.
"A generator backup could keep the school online in the event of an emergency like this," Carper said. 
Pioch hopes that the school can look for warning signs that the transformer might fail in order to prevent an outage in the future, in addition to potentially having a backup generator or transformer. Still, he feels that most of the time it is unexpected and the transformer just breaks, especially since Clover Hill's was around ten years old. He thanks Dominion Energy for their work getting and installing a new transformer to turn the power back on when it did fail. 
"They were right here for us," Pioch said. "Fortunately for us, we were the only big show in town that day and they were able to give all hands on deck to help support us that morning."
Ludwig is glad that the combined efforts of the administration, the county, Dominion Energy and himself was able to solve the problem and get everyone back in the building the next day. 
"A lot of good things happened that day and a lot of people had patience," Ludwig said. "A lot of people worked hard and got the stuff done."