Library celebrates Halloween with horror themed Books & Bites meeting
On the third Wednesday of every month, the Clover Hill librarians come together with students during all lunches to discuss their favorite books. Each month follows a different theme. Since it is Oct., this meeting of Books & Bites had the theme of horror! 
After signing in, students were welcome to grab themselves a cup of pink lemonade and a snack from the assorted basket. The snacks offered ranged from Twinkies to Doritos to even peanut butter crackers.
To kick off Books & Bites, Librarian Heidi Williams showcased a PBS video on the biology behind fear. Horror is a genre that Williams enjoys even though there is a limit to the amount of fright she can take. 
"I love spooky books, but I can't handle most scary movies," said Williams. "I have been trying to get my son into horror, we just watched Nightmare On Elm Street a few nights ago."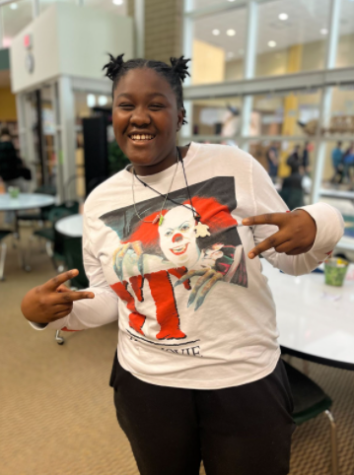 Shortly after the video, the discussion segment began. Students were able to talk about their favorite works of horror media, not just books. Among the books mentioned were The Body In The Woods by April Henry, Frozen Charlotte by Alex Bell, And Then There Were None by Agatha Christie and It and Pet Semetary by Stephen King. 
Horror movies were also a popular talking point. The movies that students mentioned included the original Halloween, It and The Exorcist.
After this, Williams showcased trailers for three books: #murdertrending by Gretchen McNeil, Sawkill Girls by Claire Legrand and The Suffering by Rin Chupeco. All of these books are available at the Clover Hill Library. 
Next month's Book's & Bites meeting will take place on Nov. 16 and focus on the fantasy genre.