Volleyball unable to take charge versus Powhatan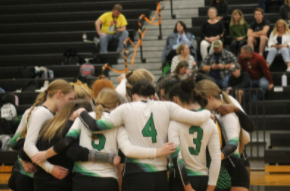 The girl's varisty volleyball team took on a fierce Powhatan Indians team on the road on Thursday, meeting them on their senior night. Following their loss in a competitive five set match to Powhatan a month ago, the Cavs looked to even the score. 
After highlighting eight seniors, Powhatan had one of their own senior captains sing the National Anthem. The Indians' home crowd attempted to bring the house down with loud cheers and even louder country music; the Cavs looked to be rattled. Letting the team on the other side of the court set the tempo, the Green and Gold fell behind 12 to five. After a few words of wisdom from head coach Mike Carter, the Cavaliers came back onto the court with offense centered around senior captain Reagan Kruger and Junior Virginia Collins. Even after cleaning up some of the mistakes from the first half of the set, the Cavs could not take the momentum from the home team, as the Indians won the first set 25 to 19.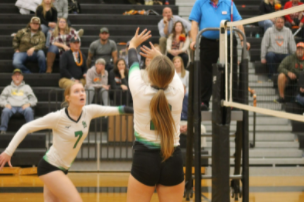 Coming into the second set with impressive defensive play from sisters Izzy Carter and Sophia Carter, the Green and Gold showed improvement as they tried to take the game back into their own hands. After a few calls that did not go their way and a very early chant coming from the home crowd, the Cavs went down 13 to eight by the first timeout. Coming out of the timeout, the Cavs played with what seemed like a sense of embarrassment, or hesitation. Their failure to communicate with each other and inability to dive after Powhatan spikes, led to the second set going to Powhatan by a score of 25 to 20.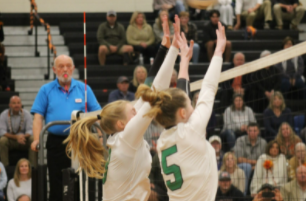 Aforementioned senior captain I. Carter finished the game with two aces, seven kills and eight digs earning her the Cavalier Chronicle's Player of the Game award for the fifth time this season. 
After a fiery speech from Kruger, the Cavs came out hot, playing a totally different game than the second set. Diving for the ball, improvising plays, hitting acrobatic shots and laying up the ball where no one on the court could reach it, the Green and Gold took a quick 14 to nine lead midway through the set. It didn't take long for that switch to flip back, however. After a couple mistakes, Clover Hill seemingly went back to playing similarly shyly to the first and second sets, going down 21 to 18. After a couple of timeouts from coach M. Carter the Green and Gold were unable to find their groove again. Ultimately, the Cavs dropped the third and final set 25 to 22. 
The Cavaliers will look to find themselves again as they go on the road next time out, facing rival Cosby (13-6) on Tuesday, Oct. 25 at 7 p.m.