Cheatham achieves royalty
For the vast majority of high school athletes, signing to play in college is no easy task. In fact, only 7% of high school athletes go on to play in college. With an even lower chance, 2% of high school athletes go on to play in Division I. 
Enter Maddy Cheatham; on Nov. 17 she signed a letter of intent to play Division I soccer at Queens University of Charlotte. Checking both boxes, Cheatham has accomplished a major feat in the world of athletics. Of the about 7% of high school athletes who make it to the college level, approximately 7.2% of women's soccer players make the leap from high school to college, and only 2.4% make it to Division I as a freshman — Cheatham has done both. 
"It's definitely kind of surreal," Cheatham said. "Sometimes I have to remind myself that I'm actually going to be a college soccer player."
With Queens University adopting the Royals as their nickname and mascot, Cheatham will spend the next four years adjusting to the fact that she will be called a "Royal." In her words, the thought of being associated, even if only by namesake, with royalty is something that has crossed her mind multiple times.
"That was actually one of the first things [that] I texted my best friend," Cheatham said. "I was like 'Guys, you have to call me a queen now because your girl's officially a Royal!'"
While Cheatham's accomplishment is undoubtedly one of the highlights of her career, she made sure to take a humble approach to the signing event. She thought of all the younger athletes who find it difficult to believe that they will ever make it this far.
"Don't believe that little voice in your head that says you can't make it," Cheatham said. "I had that voice. When I was younger, I was told by coaches that I would never make it, that I wasn't good enough, that there were other girls that were bigger, faster, stronger."
Even though she was quick to describe her own experiences with coaches during her younger years, Cheatham continued by addressing the harsh reality of that statement while offering a concession to those younger players.
"While there will always be somebody better than you, that doesn't mean that you cannot make it," Cheatham said. "There's always a place for you, whether it be Division II, Division III, even NAIA (National Association of Intercollegiate Athletics)."
Not only has Cheatham played on the Clover Hill soccer team for the last year (with a second year starting in March), she has also played in Washington D.C with her club team for many years. Cheatham's dedication meant that she would spend upwards of four hours in a car on any given day on the way to and from practices. 
"Of course I would like to thank my parents and my grandmother; they've always been really supportive of me," Cheatham said. "My dad drove me up to practice for years, two hours of his day. He stayed at a job that he didn't necessarily like so that I could play soccer in D.C."
In closing her signing, Cheatham gave a long list of those she would like to thank for the support over her soccer career.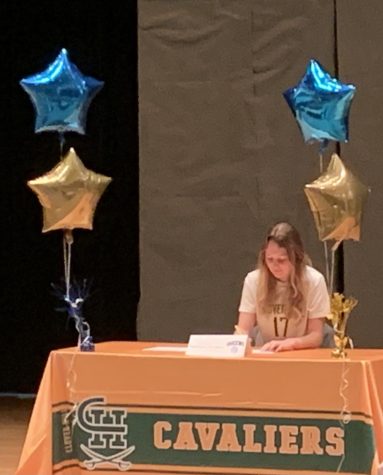 "First and foremost, I would like to thank my trainers," Cheatham said. "And then I would like to thank my coaches at Metro, my club team, George and Spencer. They were kind of the ones who pushed me and got me to where I wanted to be."
As for the nine months until Queens University starts their soccer season, Cheatham feels that the most important thing for her is just to prepare for the upcoming journey. Along with practices and other training, she will be competing in Clover Hill's girls soccer season later this year in hopes to play immediately for Queens. 
"I've made the team, but that doesn't necessarily guarantee me playing time," Cheatham said. "Even when you get to a college team, it's so competitive. I just want to be ready to make a freshman impact."
After the Clover Hill girls soccer season, Cheatham will begin her journey as a Royal starting in Aug. of 2023.