The aftermath of gun violence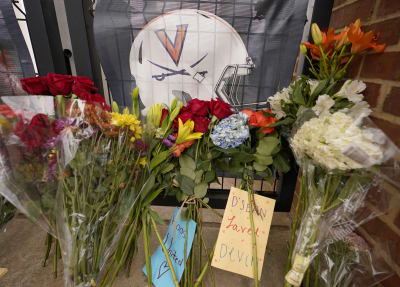 In the past month, Virginia experienced two mass shootings, one at the University of Virginia (UVA) and another at a Walmart in Chesapeake, plunging the state into the heart of a national discussion about gun violence.
In 2022, there have been 623 mass shootings in the United States, and 54 mass shootings in Virginia. This is one of the highest numbers on record. Gun violence overall is the cause of over 40,000 deaths this year alone in the United States.
In the UVA shooting, which took place the night of Nov. 13, three people died and two suffered injuries. The three who died were UVA football players Devin Chandler, D'Sean Perry and Lavel Davis Jr. 
UVA freshman and Clover Hill graduate Ayathi Gogineni was at a practice with her dance team when the shooting happened. Initially, none of them thought the alerts were anything different than normal. However, they soon realized that it was something more serious.
"We, at first, thought it was like all the aggregated assault emails we get on a weekly basis; however, within minutes everything escalated," Gogineni said. "We suddenly got alerts that students had been shot and killed on campus. Then, the students working at the AFC [building] quickly entered all the dance rooms and started escorting us to a basement safe room. From there on, everything was a blur."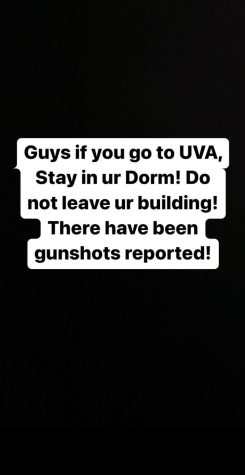 Gogineni and the rest of her dance team had to sleep on the ground in the basement that night, unable to leave the safe room. She did not return to her dorm room until around 11:30 a.m. the next morning. 
"The whole experience was shocking and not great, but I did not get too worried or fearful because I was with my dance team and I knew the AFC [building] was at a distance from the corner where everything was happening," Gogineni said. "However, I know that the people at my dorm heard the gunshots and saw the police filing into the area."
Another former Clover Hill student at UVA, Deepa Patel, was at a location away from the shooting, but worried about others who might be closer as the whole university sheltered in place.
"It was a really scary and unsettling experience," Patel said. "The university kept sending school wide texts to shelter in place, and it was scary thinking about where all my friends and roommates could be. I know we were all sending texts to check in on each other to make sure we were in a safe location."
According to Patel, there was a solemn mood on campus the morning after the shooting and for the rest of the week.
"Some people took it harder than others, but it all became very real when the names and stories of the victims came out," Patel said. "It was definitely a shock to the community."
Gogineni agrees that there was a somber atmosphere as the UVA community grieved. They all focused on remembering the victims, and healing themselves and others in the aftermath of the tragedy.
"It was a time of remembrance of those who passed away and a time to comfort each other," Gogineni said. "All popular student spots became isolated and quiet."
Patel feels that UVA's administration did well supporting the students in the weeks following the shooting. 
"All classes until Thanksgiving break were made optional for attendance, and all assignment due dates were moved to after classes," Patel said. "Many students, including myself, went home early before Thanksgiving break started. Some professors and faculty could read the mood of their students and took the extra step of canceling some quizzes [and] tests, and changing assignments to make them more low stakes. Later, it was announced that students could take a credit/no-credit option that semester for their classes. Additionally, the administration sent out plenty of emails directing students toward mental health/counseling resources should they be needed."
Gogineni agrees that UVA handled the situation well in the aftermath, and especially commends them for bringing students together for a vigil on the lawn, providing counseling and therapy dogs and canceling classes and tests that week. However, she feels that the university and local police could have handled the situation better the night of the shooting.
"Us students in the AFC were forgotten and we actually remained in there for 13 plus hours while others everywhere else were released to their dorms," Gogineni said. "Also, I found it surprising that they could not catch one shooter quicker even with the whole police force."
Immediately after the shooting she did not feel safe going out on campus, but in the weeks since she has started to heal and recover along with the rest of UVA. However, there are still lasting impacts.
"In the week following the shooting, I felt unsafe to go on to the corner or even go to the dining halls," Gogineni said. "However, I am not that fearful anymore and go everywhere, of course not alone anymore."
"
In the week following the shooting, I felt unsafe to go on to the corner or even go to the dining halls."
— Ayathi Gogineni
Only nine days later, Virginia experienced another mass shooting; this time a night shift manager at a Walmart Supercenter in Chesapeake shot and killed six others and then himself. Two mass shootings in the span of just over a week made Virginia the epicenter of the national discussion of gun violence. However, the violence was not limited to Virginia. In Colorado Springs, a gunman killed five people at an LGBTQ+ nightclub on the night of Nov. 19 and the early morning of Nov. 20. 
Patel feels that the government needs to pass stricter gun control laws to prevent more mass shootings. However, she is pessimistic about the likelihood that anything will change.
"Gun violence has always been a major issue in this country, and it is often frustrating and disappointing to think about how significant gun control will never be enacted due to political partisanship and lobbying laws," Patel said."
Gogineni feels that three events within a nine day period proves the need for a limitation of guns.
"I agree that after these events there needs to be some mandate in place to restrict gun usage," Gogineni said.
Clover Hill senior and SCA President Jaden Kline believes that America has faced and discussed the issue of gun violence for too long. He feels it is past time to take action to stop the continuous cycle of a shooting followed by public outcry, remembrance and mourning before it happens again.
"We're supposed to learn from our mistakes, however I feel like this is a mistake that we have had too many opportunities to learn from yet nothing has been done," Kline said. "We must put aside our personal views, and come together for the greater good so we don't have to continue grieving in times such as this every other day."
For this reason, and to mourn the lives lost at UVA, Kline dressed up for UVA Day at Clover Hill on Friday, Nov. 18. 
"I felt that it was important to come together as a community to honor the lives that were tragically taken," Kline said. "However, I also think that it shows that we as a community will not continue to remain quiet in the face of gun violence, and that we're ready to see real change happen in our society."
Kline believes that these events can serve as a wake-up call instead of just a statistic. He is confident that America can reduce or eliminate mass shootings in the future with the proper work and dedication. He hopes that witnessing tragedies will inspire Clover Hill students and the rest of the country to advocate against gun violence.
"Together, I believe that we can make the changes that we have long sought related to gun violence," Kline said. "The unity that Clover Hill has shown in times of tragedy and controversy is a positive sign of what we can accomplish when we work together, and I truly believe that we will see change occur if we continue to fight for what we know must happen in our society."