News Roundup: 3/6 – 3/10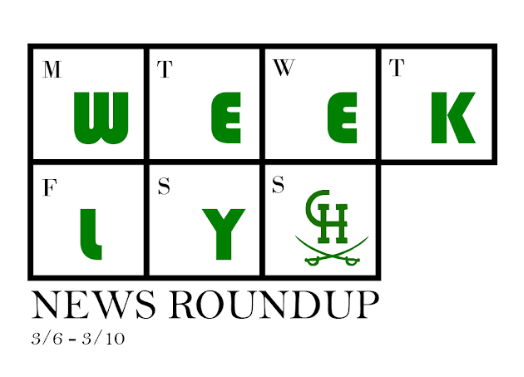 Announcements:
This year's prom theme will be golden hour. Prom will be on May 13 and will take place at the Hull Street Tech Center from 7-11 p.m. 
Attention students, the Badminton club will be hosting its Spring Raffle now until March 17th. The top 3 winners will receive prizes from Target, Gelati Celesti & Chick-fil-a. Tickets are 1 dollar with no limit to the number students can purchase. Stop by room 205 before school for purchases.
Are you ready for March Madness? How about some Manga Madness? Come into the library before or after school or during lunch to vote on favorite manga or graphic novel contenders today. Grab a bracket in the library and guess how the tournament will go; whoever has the best bracket will win big. Students need to fill out the bracket and turn it into a librarian before they leave on Friday if they want to win.
Any senior, junior, or sophomore that wants to take Behind the Wheel can see Mrs. Lambert Monday and Tuesday mornings before first period in front of the library or in room 227 or the gym. There are morning sessions, afternoon sessions and evening sessions available. The wait time is not long, so come get your spot.
Last week:
The show choirs competed in the Koste Classic this weekend. Iridescence was the first runner-up in the unisex division and the judges' choice for best set. Additionally, sophomore Maddie Izzo won the showmanship award and Big Cheeks show band won best band. Meanwhile, New Dimensions was the overall grand champions, receiving first place in the mixed division. In their division, they won best crew and best show design, while Big Cheeks once again took home best band. Freshman Lyam Guico won the award for best male performer while juniors Sierra Coote and Nick Thornton won the showmanship award.
The two concert bands each earned unanimous superior ratings from all four judges at their assessment performances on Thursday, Mar. 2. The wind ensemble received an "A" in every sub category.
Both the indoor percussion band and the indoor guard won the AIA competition on Saturday at Clover Hill.
Clover Hill athletics recognized junior Mikea Lewis as the January Athlete of the Month. Lewis played on the boys basketball team, averaging 14.5 points per game and making the 5C Central All-Region Second team while earning A/B honor roll in the classroom. Lewis was voted a captain by his teammates this season.
This week:
Monday (3/6):
There will be a free jazz education clinic in the band room, room 23, from 3:15 p.m. to 5:15 p.m. to prepare students to audition for next year's jazz band. 
From 9-10 a.m. in the forum, there will be a dual enrollment information session.
The girls lacrosse teams will scrimmage against Hanover at home. The junior varsity game starts at 6 p.m. and the varsity game starts at 7:30 p.m. 
Tuesday (3/7):
The Improv club will meet at 8:00 a.m. in room 404.
A Holocaust survivor will guest speak in the library for Mrs. Barrick's classes from 9 a.m. and 1 p.m.
The boys soccer teams will take on Deep Run on the road in a scrimmage. The junior varsity game starts at 5:30 p.m. and the varsity game starts at 7:00 p.m. 
The softball team will scrimmage against Deep Run on the road at 6:00 p.m. 
Wednesday (3/8):
Cavs for Christ will meet before school in room 423.
The boys lacrosse team will play a scrimmage against Hanover on the road. The game starts at 6:00 p.m. 
Thursday (3/9):
From 9-10 a.m. in the forum, there will be a dual enrollment information session.
There will be a Medford basketball game in the gym. The game starts at 11:30 a.m. 
There will be an emerging leaders meeting at 4 p.m. in the library.
The junior varsity baseball team will scrimmage against Dinwiddie on the road at 5:00 p.m. 
Clover Hill bands will play at Zzaam in Midlothian from 6-8 p.m. Anyone who mentions Clover Hill bands at the counter gets 10% off their order. The address is 4508 Commonwealth Centre Parkway.
Cursive Club will have a meeting after school in Mr. Goobic's room.
There will be a Biology club meeting. Meet at door 11 at 7:45 a.m.
Friday (3/10):
From 9-10 a.m. in the forum, there will be a dual enrollment information session.
There will be spring sports pictures at 3:30 p.m. 
The varsity baseball team will play a scrimmage against Hermitage on the road at 5:30 p.m. 
Saturday (3/11):
The show choirs, New Dimensions and Iridescence, will perform and compete at the New England Show Choir Showdown in Andover, Massachusetts. 
In the community:
The S.L. Nusbaum Realty Company recently began construction on 288 Lofts, an apartment community in Chesterfield. There will be 160 apartments and it is scheduled to open in the fall. It is located at 400 Katrina Court near State Route 288 and Midlothian Turnpike.
The Iso Group, a company selling automation solutions for horticulture, will build an assembly and distribution center in Chesterfield. It will cost $570000 and create 30 jobs. The company is based in the Netherlands and this will be their first U.S. facility.
Free curbside recycling pick-up in Chesterfield County will run through July 1, at which point the county will completely switch to a model where private companies pick up recycling for monthly fees. Some of these companies are Choice Waste Services, GFL Environmental, Tidewater Fibre Corporation Recycling and Zan's Refuse Service.