Cavalier Chronicle's March Madness predictions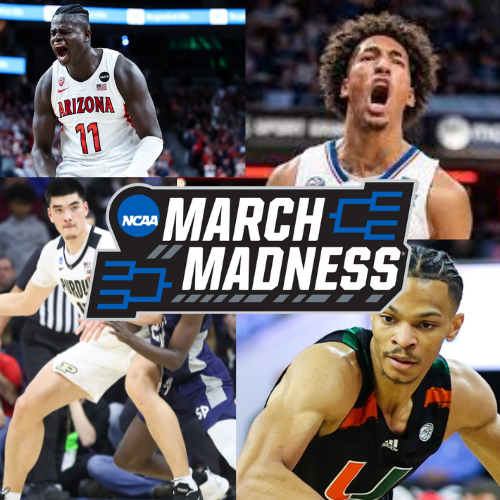 The first round of the 64 team NCAA Men's Basketball Tournament will begin on Thursday, March 16. The top overall seed, Alabama Crimson Tide, comes into the tournament off the back of an SEC Championship. See where they stack up below. Other #1 seeds include the Houston Cougars, defending champion Kansas Jayhawks and Purdue Boilermakers. Read what sports editors Cabot Butts and Ian Hooks have to say about potential upsets, players to watch, predictions and much more! 
South Region:
Alabama Crimson Tide

Arizona Wildcats

Baylor Bears

Virginia Cavaliers

San Diego State Aztecs

Creighton Blue Jays

Missouri Tigers

Maryland Terrapins

West Virginia Mountaineers

Utah State Aggies

NC State Wolfpack

Charleston Cougars

Furman Paladins

UC Santa Barbara Gauchos

Princeton Tigers

Texas A&M-Corpus Christi Islanders/Southeast Missouri State Redhawks 
Player to Watch:
Cabot: Isaac McKneely, Virginia
Shooting nearly 40% from three-point range, this University of Virginia (UVA) freshman can be a game changer for the Cavaliers in the tournament. While he has not put up the same numbers as UVA guards of years past (ex: Malcolm Brogdon), he can shoot from anywhere on the court. The only downfall for this guard is the fact that most of his success comes from catch-and-shoot opportunities and he rarely shoots off the dribble. If Coach Tony Bennett can draw up an offense in which McKneely can catch and shoot off a screen and roll, watch for him to be lethal from downtown in their first round matchup versus the Furman Paladins.
Ian: Jarkel Joiner, NC State 
The former Ole Miss Rebel has only seen his numbers and production improve this season beside Wolfpack teammate Terquavion Smith and North Carolina State head coach Kevin Keatts. Joiner is averaging 17.1 points on 43.4% from the floor, 3.7 assists, and 1.3 steals a game, which are all jumps from last season. On the tape, Joiner is electric, quick and shifty. His ability to catch defenders off guard and out of position is excellent, and it helps him get open mid-range shots. In addition to his mid-range and off-balance shooting ability, Joiner has a knack of attacking the rim and scoring through contact, which could be pivotal in their first round meeting against Creighton.      
Game to Watch:
Cabot: 6. Creighton Blue Jays v. 11. NC State Wolfpack 
The third consecutive NCAA Tournament appearance for Greg McDermott and the Creighton Blue Jays sees them up against an NC State team that is, in my opinion, underseeded in the tournament. This matchup features two teams that made plenty of noise in their conferences, the ACC and Big East, respectively. However, both teams come into the tournament off of blowout losses in their respective conference tournaments. Aside from the conference tournament blowout, Creighton comes into this game after winning 14 of their last 19 games before losing to Xavier in the Big East semifinals. Creighton's downfall in this game is the fact that they boast a 4-8 record against a field of 68 teams. NC State, on the other hand, is back in the tournament for the first time since 2018. While they have lost three of their last four coming into the tournament, there is no reason we should overlook the talent on this roster. Nevertheless, everybody in Creighton's starting lineup is averaging over 11 points a game. This game will be an offensive show, and I believe that the Blue Jays are the stronger team in this one. 
Ian: 8. Maryland Terrapins v. 9. West Virginia Mountaineers 
West Virginia head coach Bob Huggins is making his 26th NCAA Tournament appearance as a head coach, and is notorious for always having a physical and hard-nosed defensive team. While physical and tenacious can definitely describe this Mountaineer side, defensive is not a word I would use. In fact, this West Virginia side relies heavily on Erik Stevenson and their offense. Stevenson has been the focal point, averaging slightly more than 15 points a game on 38.1% from behind the arc. For the Terps, four players average double digits in points, led by senior Jahmir Young who averages 16 points per game. Young is a strong and experienced guard who can really take over a game, especially if his deep shot is on. However, Young's three point ability is inconsistent and spotty, so if the Terps rely on the deep shot, then the Mountaineers are sure to take this one.  
First Round Upset Pick:
Cabot: 12. Charleston Cougars v. 5. San Diego State Aztecs
San Diego State is making their third straight NCAA tournament appearance under head coach Brian Dutcher. However, they have not made it past the first round in any of those three matchups. On the other bench is the flaming-hot Colonial Athletic Association (CAA) champs Charleston Cougars. A team that has not lost since early-Feb, Charleston ranks top 20 in offensive efficiency, as well as in defensive efficiency. Riding the best win-loss record in program history, Charleston will be looking for blood in the first round of this year's tournament after exiting the first round of the tournament in 2018 after proving to be a popular upset pick. On paper, this Charleston team looks poised to win, as they can score from anywhere on the court, ranking 10th in Division I in three point shooting. The only issue facing Charleston is the stingy San Diego St. defense However, if they can overcome that (I'm looking at you Ante Brzovic), I would be more than confident to pick Charleston in the coveted 12 over five upset. 
Ian: 13. Furman Paladins v. 4. Virginia Cavaliers 
The Paladins are built for an upset. A fast paced, high tempo, prolific scoring offense that shoots the ball well from three; what else do you need? Led by SoCon Player of the Year Jalen Swanson and All-SoCon First Team member Mike Bothwell, the Paladins can score. Swanson and Bothwell averaged almost 34 points a game, which could be an issue for the Cavaliers who really do not score. Virginia head coach Tony Bennett always commands a slow paced game with suffocating defense; however, this Virginia side is slightly different. While the offensive tempo is as slow as ever, the infamous defense, in my opinion, has slightly fallen off. While Reece Beekman and Kihei Clark create an excellent defensive backcourt, the frontcourt sometimes stands susceptible to fierce, strong interior forces, like Swanson. If Furman is able to score enough points fast, it will be very hard for the Cavaliers to make up the ground because of their slow half court offense. 
Who comes out of this region?
Cabot: Arizona Wildcats
Listed as my preseason player to watch in the PAC-12, Azuolas Tubelis leads this Arizona team. However, he does not even have to do it himself! This Arizona team is full of other talent that can help backup Tubelis. Five players on the Wildcats' roster averaged over 10 points a game this year, while Kerr Kriisa leads the team in the assist department with 5.2 per game. Clearly, they are star studded and will be hard to stop on offense. They also should not have any problems on defense, as they have height (and a lot of it). They will be able to go head-to-head in the paint with any team in this region. On the other side, the interior play of this Wildcats team will be overpowering, and I think that will lead them to the Final Four in Houston. 
Ian: Arizona Wildcats 
This is an experienced team that is built to make a deep run in March. The Wildcats are solid on both sides of the ball; however, rank highly in offensive efficiency at eleventh in the nation. Arizona, while not necessarily a deep team, has everything they need in their starting five. All five starters average double digits in points and shoot over 37% from the field. With a frontcourt spearheaded by Azuolas Tubelis and Oumar Ballo, opposition struggle to outmuscle or outmatch these two. Tubelis and Ballo pose to be matchup nightmares for any tournament opponents, especially a team that plays a five-out offensive scheme. The Wildcats will be a hard out for any squad, and because of their offensive prowise and hard-to-defend interior, they will advance to the Final Four.  
Midwest Region:
Houston Cougars

Texas Longhorns

Xavier Musketeers 

Indiana Hoosiers

Miami (FL) Hurricanes

Iowa St. Cyclones

Texas A&M Aggies

Iowa Hawkeyes

Auburn Tigers

Penn State Nittany Lions

Mississippi State Bulldogs/Pittsburgh Panthers

Drake Bulldogs

Kent St. Golden Flashes 

Kennesaw State Owls

Colgate Raiders

Northern Kentucky Norse
Player to Watch:
Cabot: Jalen Pickett, Penn State 
Talk about a sparkplug player and one of the first names that should come to mind is Jalen Pickett. The senior Sienna transfer averages just shy of 18 points a game while dishing out over six assists a game, good for fifth in the country. Playing in a bloodbath of a conference, the Big 10, the Nittany Lions were able to hold their own and I believe that can be attributed heavily to the play of the senior guard. Recently added as a Second Team All-American (Penn State's first since 1955), Pickett has shown all year his ability to shoot off of the dribble, as well as playmake; two facets of the game that are going to be crucial against a Texas A&M team they play in the first round. On top of that, Pickett is a standout defender who can get a steal as well as anyone else in the country. Pickett is going to be someone to watch very closely, not only in the first round, but however far Penn State ends up going this year. 
Ian: Marcus Sasser, Houston
Marcus Sasser is an AP All-American First Team performer; however, after leaving the American Athletic Conference tournament early with an apparent groin injury, his tourney production and playing time may be disrupted. If Sasser is healthy, then watch out! He is a dynamic guard that can score at an elite level at all three levels of the game. Sasser averaged 17.1 points per game, shooting 44% from the floor, and after a 2022 campaign was cut short due to a season ending injury, Sasser is dying to truly flaunt his talent on the big stage. 
Game to Watch:
Cabot: 8. Iowa Hawkeyes v. 9. Auburn Tigers
This game is going to be an offensive battle, with a bit of defense sprinkled in on the side. Auburn is a great defensive team, Iowa is not. Instead, the Hawkeyes possess a lethal offense. Iowa is 11-0 this season when shooting 47% or over, while Auburn is 2-9 when opposing teams shoot 44% or better from the field. Auburn is going to have to figure out how to stop Iowa on offense if they are going to win this game. Proof of that can be found in the fact that Iowa is 2-8 this season when shooting at a clip less than 43%. While Auburn will have to rely heavily on their defense to win this game, they will also have to score at a high rate. However, I do not see this being a problem based on the amount of time that Auburn spends at the free throw line, as well as the number of second chance points that Auburn can get on any given night. I have Auburn in this game; the offense will be too much for Iowa's defense. 
Ian: 7. Texas A&M Aggies v. 10. Penn State Nittany Lions 
Pickett and the Nittany Lions are playing great basketball, evident by their second place finish in the Big Ten Tournament; however, the Aggies have also played some impressive basketball. Of their last 12 games, the Aggies have won 10, falling to Alabama in the SEC Championship game, with a shocking loss to Mississippi State. Wade Taylor IV is a big time guard who is hard-nosed and tough; he has averaged 16.5 points, four assists on over 40% shooting from the field.    
First Round Upset Pick:
Cabot: 6. Iowa State Cyclones vs. 11. Pittsburgh Panthers
Coming off of a very close win over Mississippi State in their First Four game, Pittsburgh is prepared for this game, as they have already played in this tournament. People say that the First Four is not good for the teams that are in it due to fatigue. However, I believe the opposite. I think that playing in the First Four gives a team a chance to shake off the nerves that could cost them dearly in a game. On top of that, the Panthers have already had a chance to see how they can perform against another NCAA Tournament team. Even better for Pittsburgh, they are riding the momentum of the win in that last matchup. Iowa State is going to have to look out for this team, as they have already won and are hungry for more. A double-edged sword for the Panthers is junior Blake Hinson. He is not only the leading scorer, but also the leading rebounder on this team. Pittsburgh will be reliant on Hinson and justifiably so as he is likely the most prolific shooter from deep that Pittsburgh has, making just under three a game. I believe the Panthers have all they need to upset the six seeded Iowa State Cyclones. 
Ian: 13. Kent State Golden Flashes v. 4. Indiana Hoosiers
The reason that one would pick Kent State lies with their leading scorer and focal point on offense, Sincere Curry. Plus, the Golden Flashes have kept it close with some excellent teams this year, including Houston, Gonzaga and Charleston. 
Who comes out of this region?
Cabot: Miami Hurricanes
Looking past their loss in their conference tournament semifinals to a red-hot Duke Blue Devils team, I believe that, at this moment, Miami is the second best team in the ACC. Jim Larranaga has, once again, brought a star studded team into March. At the center of it all is junior guard Isaiah Wong. I cannot get enough of watching Wong play; his style and his ability to score put him among the top tier of ACC players. Wong leads the Hurricanes in three different categories: points, assists and steals, averaging 16.2, 3.4 and 1.4 per game, respectively. Wong becomes part of a dynamic duo when senior guard Jordan Miller is on the court. Combining for 31.5 points a game, Wong and Miller lead a high powered offense into the tournament, not to mention Nijal Pack, who averages an additional 13.2 points a game. This type of offensive production is exactly what will lead the Hurricanes to the Final Four in Houston.
Ian: Texas Longhorns
Texas is coming in as one of the hottest teams in the country after annihilating Kansas by 20 points. In addition to the Big 12 Championship win, the Longhorns beat Kansas a second time towards the conclusion of the regular season, once again in blowout fashion. The guard combination of Marcus Carr and Jabari Rice are lethal, plus Tyrese Hunter as the facilitator and controller of the offense, BOOM! Magic. Hunter was the conductor of Iowa State's deep Cinderella run last season, and I feel like he can produce some more similar results here. Both Carr and Rice can score at will, and should create some tough matchups for opposing defenses. If the Longhorns can defeat Texas A&M in the second round, then Texas should be clear for an easy ride to the Final Four. 
West Region:
Kansas Jayhawks

UCLA Bruins

Gonzaga Bulldogs 

UConn Huskies

Saint Mary's Gaels

TCU Horned Frogs

Northwestern Wildcats

Arkansas Razorbacks

Illinois Fighting Illini

Boise St. Broncos

Arizona State Sun Devils/Nevada Wolf Pack

VCU Rams

Iona Gaels

Grand Canyon Antelopes

UNC Asheville Bulldogs

Howard Bison
Player to Watch:
Cabot: Jaime Jaquez, UCLA
You say hard-nosed, I say Jaime Jaquez Jr. The second team All-America selection is bound to have a standout performance in March as (spoiler alert) I have UCLA going all the way this year. Not only can he play as a big man at six foot seven, 225 pounds, Jaquez has shown that he can shoot the ball extremely well in iso situations. His ability to effectively use ball-fakes and other dekes to catch defenders in the air is lacking and has proven crucial in his game and could be easily exposed by opposing defenses. However, I do not believe anybody is going to have an answer for Jaquez's old school, traditional big man play. 
Ian: Amari Bailey, UCLA 
I am going to be honest, this pick is all recency bias. Freshman Amari Bailey broke out for a season-high 26 points in the Pac-12 Quarterfinal matchup versus Colorado. Then, in a loss to the Arizona Wildcats in the Championship, Bailey scored 19 points on 57.1% from the floor; however, his three point shooting was dismal, connecting on one for five from deep range. If Bailey is able to elevate his perimeter shooting in the Tournament, which I predict, then the Bruins will be in a good place for a solid run. In regards to his NBA portfolio, that is the true test. Expect NBA scouts to be swindling and satisfying with Bailey as a prospect. 
Game to Watch:
Cabot: 5. Saint Mary's Gaels v. 12. VCU Rams
This is an intriguing matchup because I believe that these two teams are closer in talent level than the seeds give them credit for. Saint Mary's is a phenomenal team, but is often overshadowed by a Gonzaga team that has dominated the WCC for years. VCU comes in as the A-10 champion; however, that conference is not as coveted as the ACCs and SECs when it comes to basketball. I do not think that many people realize all that this VCU team has to offer. Saint Mary's has one of the best defenses in the country, giving up just over 60 points a game. However, VCU, while there is no prolific scorer on that team, spreads the ball around at a very effective rate. Five players average over nine points a game. VCU as a whole? Seventy-one points per game on 47% shooting. Maybe these are not eye-popping numbers, but I think they are good enough for VCU to get the job done. Give me the upset in this one.
Ian: 6. TCU Horned Frogs v. 11. Arizona State
One man. Mike Miles. The Horned Frogs are such an interesting and intriguing team. The experience, combined with the depth and offensive prowess, lends itself to TCU. When I say offensive prowess, I am of course referring to Miles' ability to score, get to the rim and get to the free throw line. Shooting from behind the arc can be suspicious at times for the Horned Frogs, but the all-around scoring coming from both the starters and the bench is not a question. With a deep roster, the Horned Frogs are poised to be a good position to play on through the tourney. Although the Sun Devils just impressed in a dominant win over Nevada to secure a first round matchup, the Wolfpacks were unimpressive and lackluster during the regular season, in my opinion. Arizona State could be a picky matchup for TCU, but if TCU can get by ASU, then the Horned Frogs should be set.   
First Round Upset Pick:
Cabot: 13. Iona Gaels v. 4. UConn Huskies
Rick Pitino has led the Iona Gaels into the NCAA Tournament once again. The Gaels are always a threat to perform in the tournament, as well as a threat to upset. Iona will rely on the MAAC Player of the Year sophomore guard Walter Clayton Jr. Clayton, who averages just under 17 points a game, proves lethal to opposing defenses. Last year, Iona exited the first round of the NCAA tournament by four points against the Arkansas Razorbacks. With a more powerful offense this year, Iona is poised to complete an upset that was years in the making.
Ian: 15. UNC Asheville Bulldogs v. 2. UCLA Bruins
While I am not actually picking the upset in this matchup, I feel like this game has the biggest potential for an upset in this region. UCLA is going to be without one of their best players in Jaylen Clark, meaning other players will need to stand out and step up. Although Jaime Jacquez and Tyger Campbell are the top two scorers, Clark is irreplaceable on the defensive side, and that will be a huge hole against tougher opponents. Asheville has two guys who can explode on offense. Forward Drew Pember averages over 20 points a game, and Taijon Jones averages 15 points an outing.  
Who comes out of this region?
Cabot: UCLA Bruins
Disregard their loss in the PAC-12 championship for a second; that was a star studded lineup that *hint, hint,* they will probably see again. All season long, UCLA has shown that they are able to compete with anybody in the country. The Bruins will rely on senior Jaime Jaquez for a little bit of everything in this tournament. Jaquez has shown his ability to score, but has also shown his ability to get down into the low post and rebound the ball; he comes into the tournament averaging almost nine rebounds a game. However, UCLA does not need to look to Jaquez exclusively; they have options, like freshman Amari Bailey, who is shooting at just under 50% this year, and senior Tyger Campbell. While I am very confident that UCLA can come out of the West Region unscathed, they must avoid a growing theme that they faced in each of their losses: all of their stars went cold at the same time. For example, Tyger Campbell and Jaime Jaquez only shot 28% in the loss against Arizona in the first matchup of the year and 31% in the loss to Arizona last week. However, if they can avoid that problem, I believe that UCLA will win this region.
Ian: Kansas Jayhawks
I know Kansas has cooled off since their extremely hot start, but the Jayhawks are still as talented and deep as ever. Freshman Gradey Dick has emerged in the spotlight as a young star, and Jalen Wilson has finally lived up to the hype, and has been the main man for Bill Self's highly ranked side. Wilson averaged over 20 points and eight rebounds a game this year, and has shown NBA flashes with a multitude of 30-plus point performances. While his three point shooting is inconsistent, the talent is still there and unchangeable, so expect another deep run from the Jayhawks.   
East Region: 
Purdue Boilermakers

Marquette Golden Eagles

Kansas State Wildcats

Tennessee Volunteers

Duke Blue Devils

Kentucky Wildcats

Michigan State Spartans

Memphis Tigers

Florida Atlantic Owls

USC Trojans

Providence Friars

Oral Roberts Golden Eagles

Louisiana Ragin Cajuns

Montana State Bobcats

Vermont Catamounts

Texas Southern Tigers/Fairleigh Dickinson Knights
Player to Watch:
Cabot: Jeremy Roach, Duke
During Duke's phenomenal run through the ACC Tournament, Jeremy Roach was very influential in the play of the Blue Devils, scoring almost a third of Duke's points in the championship game against UVA. The finest part of his game comes in a motion offense, an offense in which he excels in scoring. A very effective motion offense works great in the Blue Devil's offensive scheme, something that Coach John Scheyer will look to implement at every available opportunity. The Duke offense is one that Roach has shown he excels in and that will translate into the NCAA Tournament.
Ian: Markquis Nowell, Kansas State
Rewatching his Texas performance, Markquis Nowell is a shining star. Although he only stands at five foot eight, he can do everything you need on the offensive side of the ball. Against the Longhorns, Nowell opened up the scoring line by finishing an awkward possession with a wide open three. His three point prowess continued to impress in the matchup with an array of open catch and shoot threes and contested step-backs. However, his early perimeter production skewed the defense for the rest of the contest. The Longhorns had to respect the deep shot for the rest of the game, allowing Nowell to get down into the lane easier. Nowell is not the quickest or sharpest guy on the floor, but he is able to play through contact well, and he could really prove to be the difference for a Wildcats side who can easily see themselves in the second weekend.  
Game to Watch:
Cabot: 7. Michigan St. Spartans v. 10. USC Trojans 
This game will come down to whether USC can stop Michigan State's pick-and-roll offense. The Spartans' offense relies heavily on the pick-and-roll through senior Tyson Walker and junior A.J. Hoggard. In fact, they are in the top 60 in running the offense. Michigan State has found this offense very effective, ranking in the 88th percentile in scoring when running it. However, USC has shown that they can efficiently and effectively stop this type of offense, ranking in the 87th percentile in pick-and-roll defense. It seems that whatever either offense can bring to this game, the opposing defense has an answer to. For example, USC runs a fast transition offense, but Michigan State is known for extinguishing those opportunities. USC will need to find a way to hurt the Michigan State defense, and I believe they can do that with senior guard Boogie Ellis, who averaged 18 points a game. If you consider a 10 over seven an upset, then give me the upset all day. I like USC in this one.
Ian: 11. Providence Friars v. 6. Kentucky Wildcats
The Wildcats are an inconsistent team. Although All-American Oscar Tshiebwe is a dominant presence in the paint, the spotty perimeter shooting and susceptible defense is too much for me to pick Kentucky. In addition, Kentucky lost in the SEC Tournament prematurely, falling to Jerry Stackhouse's Vanderbilt Commodores. The Friars ended the season cold, losing the final three games to Xavier, Seton Hall and UConn, respectively. However, Providence has five players that average double digits in scoring, and the backcourt combination of Bryce Hopkins (16.1 points), Jared Bynum (10 points) and Noah Locke (11.1 points) is fabulous. The quick pace and stout offense of Providence, added to their decent defense, is enough for me to pick the upset here.  
First Round Upset Pick:
Cabot: 15. Vermont Catamounts vs. 2. Marquette Golden Eagles
Call me crazy, but I LOVE how this Vermont team has been paying recently. It seems that everything came together in the America East tournament. I loved their performance in that game versus UMass-Lowell. Everything was working. While maybe they do not have the same firepower as, say, an Arizona or UCLA, they play fundamentally sound basketball. In that aforementioned championship game, I noticed a lot of success off of the screen and rolls and back cuts; those are basic, fundamental plays that are superb for Vermont. This traditional and old-school style of basketball may catch the Big East champions off guard. The Catamounts will lean heavily on their six foot three senior guard Dylan Penn. After averaging just over 14 points a game in his four years at Bellarmine. Penn is averaging just under 14 points a game this year, making him the highest scorer on the team. Penn's success comes a lot of the time from floaters and runners through the lane. While a bit unorthodox for a guard, Penn is someone who Vermont will have to rely on if they want to win this game. I believe Marquette is a little bit overseeded and that will show against the Catamounts on Friday. I'm going with Vermont in this one.
Ian: 12. Oral Roberts Golden Eagles v. 5. Duke Blue Devils 
Max Abmas returns to the big dance, and this Golden Eagles side is better than two years ago when they upset Ohio State as a 15 seed. Abmas has been beyond impressive, dominating in the Summit League while averaging 22.2 points, four assists and shooting excellent from both the floor and the free throw line (which is key in March). In addition to Abmas, Arkansas transfer Connor Vanover stands at seven foot five, which makes him an elite rim protector (averaging 3.3 blocks a game), and he is very tough to defend in pick-and-roll situations, which is a sturdy percentage of what Oral Roberts runs on offense. Abmas and Vanover have the ability to score at will, and despite Duke's hot season end, which finished in an ACC Tournament victory, I believe that Oral Roberts edges out the Blue Devils. 
Who comes out of this region?
Cabot: Duke Blue Devils
Perhaps the hottest team in the country coming into the tournament, Duke is showing no signs of slowing down any time soon. Led by first year head coach John Scheyer, who became only the fifth coach in ACC history to win the conference tournament in his first year, Duke is certainly a team to look out for in the NCAA Tournament. After the retirement of Mike Krzyzewski following last year, Scheyer had massive shoes to fill. The start to the Blue Devils' season was certainly not up to Duke fans' standards, but they were able to roll through ACC play en route to an ACC championship and NCAA Tournament berth. I believe that the team was able to come together and play the best basketball that they have played all season in the ACC tournament. Led by junior Jeremy Roach and freshmen Derrick Lively and Kyle Filipowski, the Blue Devils will have no issue overpowering their opponents en route to a Final Four appearance.
Ian: Kansas State Wildcats
The Wildcats may not be in the best form possible, but the dynamic duo of Nowell and Keyontae Johnson is elite and incomparable in this region. The Wildcats have played and impressed in the Big 12 this season with first year head coach Jerome Tang, and the high scoring offense is electric and fun, so be ready for the Wildcats.     
National Championship Predictions
Cabot: 2. Arizona Wildcats v. 2. UCLA Bruins
Ian: 2. Arizona Wildcats v. 2. Texas Longhorns
National Champion
Cabot: UCLA Bruins
Ian: Texas Longhorns
Tournament Brackets
Cabot: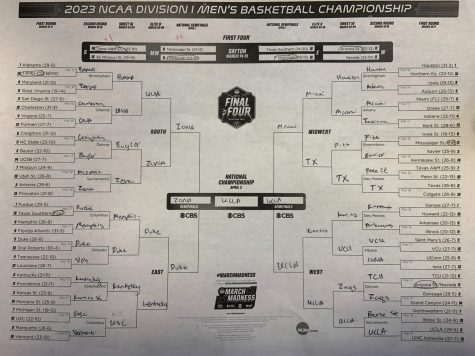 Ian: