Girls Lacrosse makes program history in win versus James River
The Girls' Lacrosse team made program history on Monday night in a 15-6 win over the James River Rapids. The victory marks the first time that the Cavaliers have ever defeated James River in girls' lacrosse. 
Aside from the historical significance of the matchup, defense shined for the Cavs. After a slow start offensively for both teams, the Rapids got on the board first before being shut down for the rest of the opening half. The Green and Gold then caught fire, scoring seven unanswered goals, thanks to senior midfielder Destiny Smith, who contributed four goals in the half, senior attacker Emma Zblewski, who scored twice and junior attacker Oge Ikem, who also scored a goal in the half. 
Physicality also played a major role in the matchup, with six yellow cards handed out between the two teams, along with a plethora of other empty checks. Seven minutes into the game, The Rapids goalie was given a yellow card after falling on top of Zblewski, leading to an empty net for the next two minutes. Unfortunately, the Cavs were unable to capitalize on the opportunity as James River played keep-away for the entirety of the power play after getting the ball back.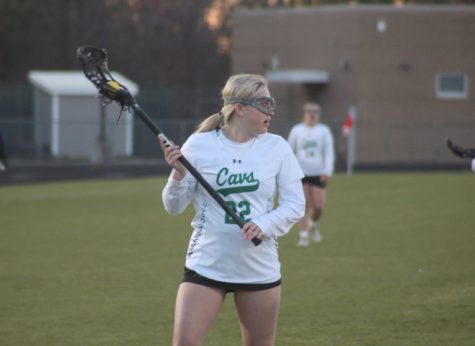 In addition to the physicality and excellent Cavalier defensive play, junior goalkeeper Grace Adams was fantastic once again in the goal, only allowing six Rapid scores, while gathering eight saves. Allowing five goals during the second half, the Cavs saw the game through as the defense stayed strong, executing stick checks to perfection, as well as staying in front of the ball for effectively the entire game. The defensive unit, as a whole, won the Cavalier Chronicle Player of the Game award. The defense includes seniors Caitlyn Siljanoski, Tessa Iorio and Vianca Ruiz and junior Abby Taylor, who all played very influential roles in the game.
The Cavs scored eight more goals in the second half, courtesy of Zbelwski, Smith and senior Anahi Vasquez, solidifying their victory. 
With three of their final four games at home in the Chiller, the Cavs will look to build off of their momentum from Monday's game in preparation for the rest of the season. The Cavaliers' next game is against Goochland High School on May 1 at 5:30 p.m, where they will look to defend an early season 19-1 road win.