Art students adjust to virtual setting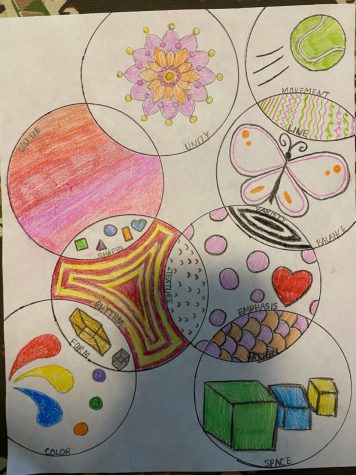 It would be an understatement to say that the 2020-2021 school year has been different from most years. Students and staff alike have rushed to adjust to the new digitized learning environment, only to be met with technological and learning obstacles. Through the turmoil and reshuffling, art teachers and students are finding ways to adapt to the new normal. Art classes, which traditionally implement a hands-on approach, have adopted new methods to assimilate. 
Surprisingly, some students, such as 3D Art Design student and sophomore Finnick Patrick Kennedy, do not notice a great difference between online and in-school art classes for the time being. 
"It's not much different right now, because we are just doing the elements and principle," Kennedy said. "However, when we start the big projects at home, it'll be harder because we can't ask questions all the time."  
AP Graphic Design student and senior Savannah Sandlin said that online school has remained fairly consistent with the conventional learning curriculum, aside from the increased self-directed work time.   
"At school, we are provided the programs we need on the school computers, and we can use our teacher's cameras," Sandlin said. "At our home, not only do we have to use limited versions of the programs, we have to provide it ourselves." 
To help ease the transition for students, art teachers, such as Graphic Design teacher Jamie Barnett, have created online tutorials for students to follow. Graphic design student and junior Andrea Rojas appreciates the guide. 
"I really like that Ms. Barnett gives us tutorials on what we have to do, so we do not feel lost. It is similar to the way we did it in class except we aren't physically there," Rojas said. 
3D Design teacher Victoria Kirtley believes that this experience will teach students to work independently and develop problem solving skills which are essential for the real world.  
"Hopefully students are learning to work more independently instead of asking me to do it for them," Kirtley said. "I realize that my students are sitting in front of computer screens and getting work overload from many of their classes, so I want to give the students a break from the computer and give them a chance to enjoy the process, not necessarily the outcome."
Digital art classes encompass both aspects of digital learning and hands on learning through its instructional lessons and allotted asynchronous work periods. The combination of the two have created a unique school experience for the 2020-2021 school year. Whether students prefer taking art classes in a digital format or in-person, art students have had to adjust to a virtual setting in creative ways, both artistically and logistically. 
Upcoming art events include the Scholastic Arts scholarship which will accept entries up until Dec. 2020. For the most recent news of CHHS art classes, students should go to the CHHS 3D Design Instagram, @chhscraftersrock, or the new CHHS art Instagram, @chhsvisart, which will be a collaborative page that showcases the mixture of mediums that CHHS art students have created.